Flood Wall Street ends with mass arrests after day-long protest (PHOTOS)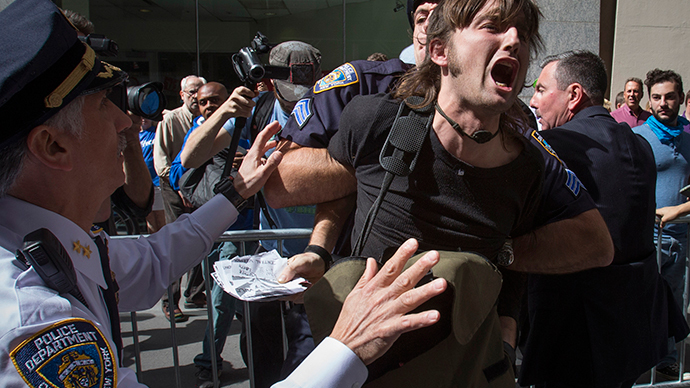 Just one day after the world's largest climate-related protest, thousands of more rebellious activists risked detainment to shut down part of New York City's financial district to demand action against global warming. More than 100 people were arrested.
TIMELINE: NYPD arrests 100 protesters defying order to disperse
United under the "Flood Wall Street" banner, some 2,000 demonstrators streamed into New York's financial district Monday afternoon and promptly sat down in the streets. The sit-in, which organizers said was aimed at confronting "corporate polluters and those profiting from the fossil fuel industry," completely shut down traffic in the area for nearly eight hours.
Around 7:30 p.m., the New York Police Department (NYPD) began arresting protesters en masse and charging them with disorderly conduct. Earlier in the day, several arrests were made, with one witness telling RT pepper spray was used in at least one circumstance.
Multiple people are being arrested at once now #FloodWallStreetpic.twitter.com/JH71QeePp7

— RT America (@RT_America) September 22, 2014
Activists, many of whom took part in the Occupy Wall Street protests three years ago, did not have a permit for the demonstration from the NYPD, meaning they risked arrest for participating. National Lawyers Guild members sprinkled through the crowd handed out legal advice to those at the scene, taking down names and helping people set aside bail money.
Warnings for people to leave the scene were aired as organizers discussed plans to spend the night in the street. Police then separated the sit-in members from the rest of the crowd, installing a barricade. A diverse set of people were ultimately detained when the time came, including a man dressed in a polar bear outfit, two women in Captain Planet costumes, and a man who had attended the rally in a wheelchair and with a respirator.
This is who police have left to arrest #FloodWallStreetpic.twitter.com/7k1jys9LBS

— Jordan Mammo (@jordanmammo) September 23, 2014
Despite the mass arrests, the sit-in participants did not resist police when the plastic handcuffs came out, and the whole process was done in an orderly fashion. As individuals were escorted into police vehicles, people shouted various chants, such as "We'll be back!" and "Go arrest Wall Street."
Much of the original route mapped out by organizers had been gated off by police, but around 12 p.m. EST the march moved from Battery Park, weaving through traffic before setting up camp near the Wall Street bull on Broadway.
From the top of a sightseeing bus manned by a sympathetic conductor. #FloodWallStreetpic.twitter.com/Wa8ZATCWi2

— Will Dizard (@willdizard) September 22, 2014
Speaking with RT, New Yorker Zach Weinsteine said Flood Wall Street wants to "demand action on the climate process now."
"The time for action was actually 25 years ago," he added."The longer we wait, the more difficult the solutions will be necessary to solve the problem."
Among dozens of signs, waving flags, and elaborate costumes, protesters also brought along two giant, inflatable balloons representing carbon emissions. At two different points in the protest, the balloons crossed over the gates protecting the Charging Bull statue and were popped by police officers.
Police have destroyed the balloon #FloodWallStreethttps://t.co/XtZDTwlwNU

— Jordan Mammo (@jordanmammo) September 22, 2014
At another point, some protesters took over the top of a double-decker tour bus, waving protest flags and cheering as it drove past the sit-in. During a general assembly period, protesters collected cups of purple powder and tossed it into the sky. Another man climbed up a street post and threw money into the crowd.
While the protest was largely peaceful, Reita Ennis from Boston, Massachusetts, said that both the People's Climate March and the more confrontational approach espoused by Occupy/Flood Wall Street were necessary considering the Earth's current state.
"I think civil disobedience is going to be an important part of this fight," she said, going on to criticize a "do-nothing Congress" as well as capitalism in general for failing to curb the dangers of global warming. "Today is taking another step to show we're serious."
Officers on Broadway and Pine have put helmets on #FloodWallStreetpic.twitter.com/YhWTTpVsY8

— RT America (@RT_America) September 22, 2014
As they addressed each other, protesters took turns airing their grievances – they railed against what they see as greedy corporations, oil development projects, the BP oil spill, and war itself.
Numerous people explained their reason for joining the sit-in as a way to show solidarity with those affected by climate change. They added that taking part allowed them to join something "bigger" than themselves.
Sam Coodley, an independent filmmaker and anti-fracking activist, told RT Flood Wall Street was necessary to show people taking more direct action.
"[The People's Climate March] was an incredible event, but there was a lack of closure," he said. Flood Wall Street is about directly confronting climate change"rather than marching and going home."
"Occupy started on a Monday like this and spread to every continent," added Coodley, who traveled from Colorado for this week's climate events. He acknowledged that recreating that impact may seem like a lofty goal, but "hopefully this spreads elsewhere" in the US and around the world.
Approximately 2,000 people blocked the street next to the Wall Street bull in NYC today during #FloodWallStreet. pic.twitter.com/fhFMTuWa8l

— Jenna Pope (@JennaBPope) September 23, 2014
The #FloodWallStreet throws purple powder into the air pic.twitter.com/qRMpdKEOIG

— RT America (@RT_America) September 22, 2014
Aerial image of #FloodWallStreet from http://t.co/z9gWx7v370@Uneditedcamerapic.twitter.com/d2pKRyEcKU

— Democracy Now! (@democracynow) September 22, 2014
#FloodWallStreet crowd planted on the ground chanting "this is what democracy looks like" pic.twitter.com/JCfeirEgpb

— Jordan Mammo (@jordanmammo) September 22, 2014
The group out at #FloodWallStreet keeps getting bigger and bolder pic.twitter.com/NnQ2R2rggv

— RT America (@RT_America) September 22, 2014
You can share this story on social media: