Mike Tyson helps motorcycle crash victim in Las Vegas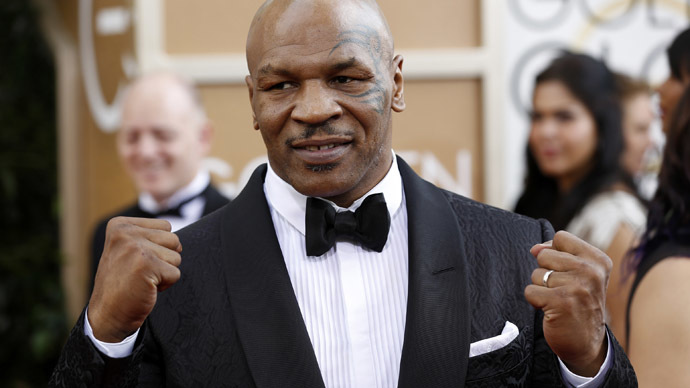 Boxing legend Mike Tyson is being branded as "some kind of superhero" by a man who says the hall-of-famer came to his side last week after an automobile accident in Las Vegas, Nevada left him waiting for an ambulance.
The lawyer for 29-year-old Ryan Chesley says his client was riding his motorcycle on Interstate 15 in Vegas on Sept. 16 when a taxi cut him off and forced him to crash his bike.
Chesley has since been discharged from an area hospital after being diagnosed with broken bones and torn ligaments, but the outcome could have been much different had "Iron Mike" not made an appearance.
According to Chesley, he was laying on the road waiting for an ambulance when the boxer suddenly appeared nearby and began to block off traffic to keep passersby from getting too close to the scene of the accident.
"He looked up and saw Mike Tyson," his attorney, Stephen Stubbs, told the Daily News. "He was saying 'don't worry, don't worry,' people are coming."
"He thought he was hallucinating," Stubbs told the Associated Press. "He thought he was in some other world."
Soon after the paramedics arrived and, according to Stubbs, Tyson quickly took off "like some kind of superhero" — but not before Chesley snapped a picture of the sports icon with his cell phone.
Mike Tyson -- Comes to Rescue of Motorcycle Crash Victim http://t.co/LZkg1fS44B

— Los Angeles News Now (@lanewsnow) September 22, 2014
Steve Lott, an assistant to Tyson, told the AP that Chesley personally extended his gratitude by sending the former heavyweight boxing champion a fruit basket and a handwritten note.
"Thank you so much for looking over me after my accident," reads the note, received on Friday. "It has to be the most reassuring thing in the world to have Mike Tyson telling people not to touch me."
Speaking to the AP, Lott said that most of the fruit basket was consumed over the weekend — and that the pistachios were a highlight of the arrangement.
"He wanted to say thank you," Stubbs said of his client. "We asked if we could send chocolates but his rep said 'no, he's a health nut.' We sent him a fruit basket because he is into antioxidants."