Smoke-filled JetBlue plane makes dramatic emergency landing (VIDEO)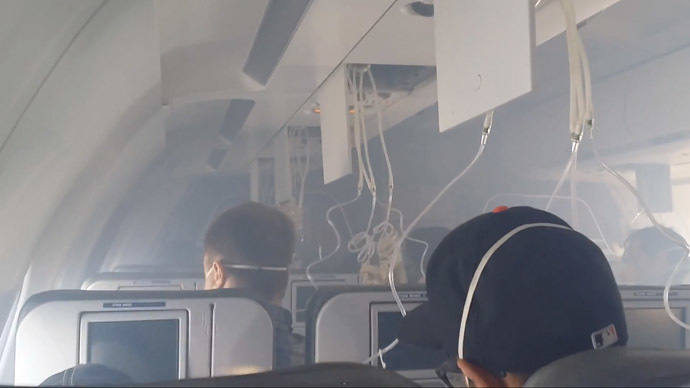 A JetBlue flight made an emergency landing at Long Beach Airport in California after losing an engine on Thursday morning. One passenger filmed the inside of the aircraft, while a movie star aboard live tweeted the incident.
The Airbus A320 had taken off from the southern California airport about 15 minutes before, heading for its destination of Austin, Texas. It was over the ocean when passengers heard a loud pop.
"On September 18, the flight crew aboard flight 1416 reported an issue with the number two engine and returned to Long Beach Airport," JetBlue officials said in a statement.
The pilots had received a warning signal that the engine was overheating, Jake Heflin of the Long Beach Fire Department told KCAL.
"There was a loud boom and then immediately the cabin filled with smoke," said Jarrod West. "The masks didn't drop at first."
"They proceeded to have some smoke inside the cabin," Heflin said. "The pilots then deployed both extinguishing agents."
Passenger Jonathon Hubbard sat in the emergency row on board.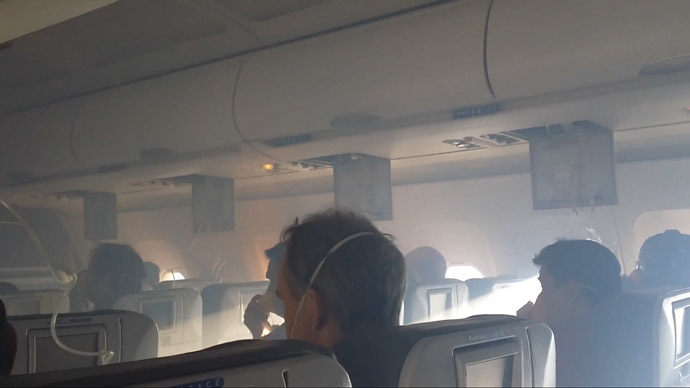 "Smoke engulfed the cabin where you couldn't see the person next to you," said Hubbard. "It was that bad. For the most part, people stayed calm."
Actor Jackson Rathbone, the 29-year-old who played Jasper in the Twilight series, live-blogged the experience on WhoSay.
"The oxygen masks did not deploy, but the brave stewardesses came around and manually deployed them. It was rough, the plane was rocking…" Rathbone wrote. "I recited the Lord's Prayer as I held my son and my wife in my arms. The pilot came on the PA and let us know we lost the right engine."
"We were told to brace as we careened sharply back towards land," the actor continued. "Over the PA, the pilot yelled 'Brace!' The stewardesses made it into a chant. I wrapped my arm around us. And we braced."
The plane landed safely back at Long Beach, 25 minutes after it took off, and emergency slides deployed to quickly deplane the 142 passengers and five crew members who were on board.
RT @CBSLA: DEVELOPING: More on #JetBlue flight 1416's emergency landing at #LongBeachAirport. http://t.co/ZDNXMM9AdJpic.twitter.com/fFdx99Twto

— WLTX - On Your Side (@WLTX) September 18, 2014
There were four patients that were treated and evaluated by Long Beach Fire Department paramedics on scene of the incident itself, one of those patients complained of shortness of breath and was transported to a local area hospital," Helfin said.
The other three patients were evaluated and treated on scene, KCAL reported. Long Beach Airport was reopened shortly before 11:30 a.m., about two hours after the emergency landing.