Real-life 'Breaking Bad': Chemistry teacher brings date-rape drug recipes to school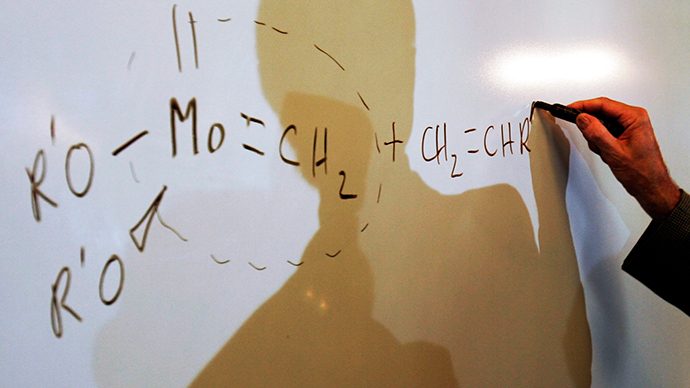 A Houston-area chemistry teacher had recipes for date-rape drugs in her possession when she was arrested at school Friday. Police have found a cache of drugs and a loaded shotgun in her home.
Haivan Bui, 29, was charged with possession with intent to deliver or manufacture a controlled substance. Bui is a chemistry teacher at Oak Ridge High School and Lone Star College. Her husband, Chris Alan Hartwell, 33, was charged with one count of possession of a controlled substance, one count of aggravated possession of a controlled substance, and being a felon in possession of a firearm.
Deputies with the Montgomery County Sheriff's Office Special Investigations Unit (SIU) and the Montgomery County SWAT team executed a search warrant on a residence in the Houston suburb of The Woodlands, Texas on Friday. There they discovered two ounces of methamphetamine, several ounces of gamma-hydroxybutyrate (GHB; a compound found in date-rape drugs), marijuana, numerous prescription medications, and a loaded shotgun, investigators said.
Hartwell was present during the search, and was arrested. The SIU and Conroe Independent School District (ISD) police then arrested Bui at Oak Ridge during the school day. Officials said she had recipes for date-rape drugs in a backpack she was carrying.
Conroe ISD teacher, husband arrested on drug charges http://t.co/3c1wvHvqwG#HouNews#KPRCpic.twitter.com/slpMxurMi5

— KPRC Local 2 Houston (@KPRCLocal2) September 13, 2014
Neighbors told KPRC they were shocked by the charges.
"Maybe they're trying to be the new 'Breaking Bad'," said Phyllis Hannon. "He was a chemistry teacher on the show, too."
"I'm shocked," said Curneesha Hammonds. "They didn't look like the type of people who would do that."
Conroe ISD hired Bui in June 2013 to teach science at the high school, according to a statement by the school district. Her students were in disbelief over her arrest.
Sophomore Armando Sanchez told KHOU that students started talking when Bui didn't show up for last period chemistry class, and that another teacher came to the class and told them that Bui had just been arrested.
"It was kind of crazy. Everyone was like, maybe it's drugs, and it was," he said. "She was really nice. I think she was a good teacher."
Bui will still be the best teacher I've ever had at Oak Ridge. Truth is told.

— yoyo (@Yosensa) September 14, 2014
"Many are thinking, she didn't seem like the teacher that would do something like that," said senior Nicholas Marron.
Although Bui had recipes for date-rape drugs in her possession at school, Oak Ridge principal Tommy Johnson told parents in an email, "There is no reason to believe that any illegal activity took place at the campus at this time."
"We are very disappointed and want to assure you that we are committed to providing a safe learning environment for our students," Johnson wrote, according to KHOU. "We will remain vigilant in investigating any and all reports that might affect the well-being of students or staff."
The Montgomery County Sheriff's Office said the investigation is ongoing. The department previously arrested Hartwell on a capias pro fine warrant in June 2012 to revoke his parole, according to the Montgomery County Police Reporter.