Convicted Ohio school shooter captured after escaping prison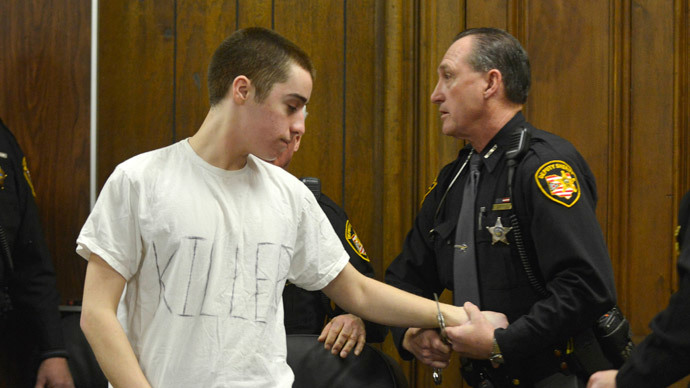 Police report the capture of the notorious convicted Chardon High School shooter hours after his escape from the Allen Correctional Facility in Ohio, which triggered a major manhunt.
Thomas Michael 'TJ' Lane III, 19, who was sentenced to life for killing three students, was on the run after escaping the correctional facility on Thursday. He broke out with another inmate, 45-year-old Clifford Earl Opperud, who apparently remains at large.
The Lima Police Department put out a notice describing the men, who were wearing prison blues at the time of their escape.
Update alert from @LimaPolice on escaped Chardon shooter TJ Lane: https://t.co/7jDeDSXPstpic.twitter.com/eSYell87sQ

— Austin Hunt (@iAustinHunt) September 12, 2014
Police are advising people not to allow anyone in their homes, not to pick up hitchhikers and to call police if they see anything suspicious.
"We are going to consider them definitely dangerous. At this point, they've been out for two hours, they could be armed right now," Lima Police Sgt. Andy Green told NBC News. The Allen County Sheriff's Office, Ohio State Highway Patrol and Lima police have all mobilized their tactical teams in the manhunt, Green said.
"All available troopers from the Ohio State Highway Patrol have been joined by Allen County Sheriff's deputies and local area law enforcement in establishing a perimeter and searching the area," Ohio Department of Public Safety Director John Born said in a press release. "A Patrol helicopter with advanced infrared detection equipment has been deployed and is engaged in the search as well. The public is encouraged to report any suspicious persons or possible sightings by calling 911."
BREAKING NEWS: Chardon shooter TJ Lane has escaped from prison and is at large. Major manhunt underway. SHARE! pic.twitter.com/jCeEggtMHd

— PzFeed Top News (@PzFeed) September 12, 2014
Opperud is serving a 12-year sentence for aggravated robbery, aggravated burglary and kidnapping stemming form a 2008 offense, according to ABC Cleveland.
T.J. Lane was serving life in prison after pleading guilty to shooting at students in February 2012 at Chardon High School, east of Cleveland, Ohio. He took a .22 caliber pistol and knife to the school and fired 10 shots at a group of students in the cafeteria – three teenage boys were killed and three more were injured.
Lane was convicted on three counts of aggravated murder, two counts of attempted aggravated murder and one count of felonious assault. He was sentenced to three life sentences without chance of parole, plus 37 additional years for attempted murder, assault and using a weapon in a crime.
During his sentencing, Lane wore a t-shirt in court with "KILLER" written across the front. He told the court: "This hand that pulled the trigger that killed your sons now masturbates to the memory. F--- all of you."
URGENT: School shooter T.J. Lane, serving a life sentence for killing 3 students at Chardon High has escaped prison. pic.twitter.com/KZE4H1uDMZ

— PzFeed Top News (@PzFeed) September 12, 2014
Lane has been in prison for only 18 months but has been disciplined seven times, according to cleveland.com
Reports are that Lane was having problems adjusting to prison life. Prison officials cited Lane in August for urinating on a wall in the prison and took away his recreation privileges for seven days, a prison official told The Plain Dealer. In other incidents he was segregated for self-mutilating and refusing to carry out work assignments.