Bulletproof blankets would protect students in case of school shooting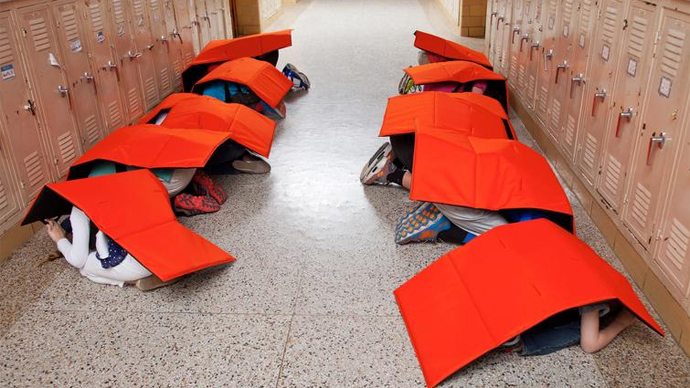 Nervous about the rash of school shootings that have taken place over the past decade, an Oklahoma company has launched a new product that, with a lack of effective gun control laws, promises to protect schoolchildren will bulletproof blankets.
The Bodyguard Blanket, designed and manufactured by ProTecht, is advertised as a 5/16-inch thick bulletproof rectangle that students can wear over their back in the event of a tragedy at school. The product comes adorned with a backpack straps and is reportedly able to protect against nails and shards of metal as well as bullets.
ProTecht, which posted a video of a test blanket being shot with test gunfire, is made with the same material that makes up the body armor military and police officials rely on.
"We're trying to stop that blunt-force trauma when that rubble is falling down on a child for instance," developer Steve Walker told the Oklahoman newspaper.
Walker, a podiatrist, said the idea was born when he was trying to come up with an idea that would protect children without access to a tornado shelter from harsh weather and from the debris that it creates, particularly in Oklahoma.
He turned over an outline of the idea over to Steve Schone, an inventor, who thought of equipping the product with a high-density plastic used in ballistic armor, yet is lighter than the usual Kevlar technology.
"Instead of bending over and hoping for the best, they're afforded an extra layer of protection," Schone said of the children who might someday have no choice but to use the Bodyguard Blanket.
One major hurdle the ProTecht team must overcome is the price they are charging. At nearly $1,000 per blanket, already-strapped public schools could have a difficult time coming up with enough money to deploy the protective gear. Yet the owners have touted the blankets' versatility, especially in the event that a community is not equipped with enough storm shelters.
"By no means would we ever say that this is more protective," Walker said. "But when you have budget constraints, this might be a viable alternative."
They began work on the project approximately 10 months ago, launching the marketing campaign just weeks ago with the hope of making schools safer.
"It'd take a long time to build tornado shelters for every kid in Oklahoma," Schone added. "This thing gives kids an option, an alternative that will give them an opportunity to survive."
The idea for the bulletproof blanket comes after a line of bulletproof whiteboards made headlines last year. The University of Maryland Eastern Shore invested thousands of dollars in at least 200 whiteboards with the intention of using the instruction tool as a bulletproof shield if a mass shooter were to visit the campus.
"We just wanted to add one more tool to help us ensure the safety of the campus community," Ernest Leatherbury, chief of campus police, told the New York Times. "The whiteboards are user-friendly and noninvasive."
Educators have had no choice but to become increasingly resourceful as the number of shootings continues to rise without any substantial laws being passed that would prevent criminals or mentally ill men and women from getting a hold of deadly firearms. Some schools have taught students to swarm a shooter and tackle them as quickly as possible, while others have stressed that remaining calm in a normally picked situation could be enough to save lives.
"Rather than just go hide in the corner, we do have options," Bob Verhelst, director of student services at an Ohio school district, told Education Week. "What we have been doing is not a good way to keep our kids safe."
You can share this story on social media: