Location, location, location: $1 million parking spaces for sale in NYC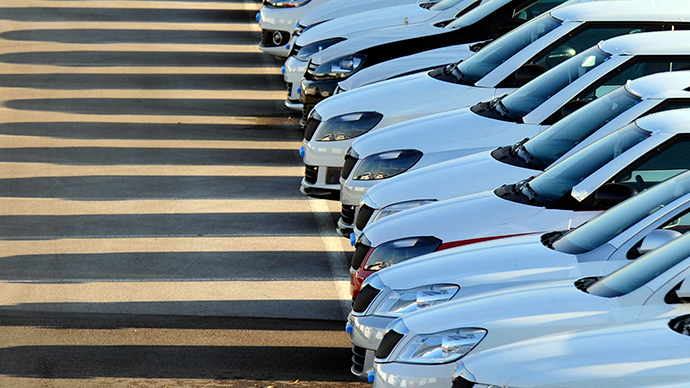 Manhattan's One Percenters will now have one more type of real estate investment that the have-nots of the world could never hope to afford: $1 million parking spaces. The spots for sale cost more per square-foot than the luxury building's apartments do.
A new luxury development in New York City's SoHo neighborhood, 42 Crosby Street, will offer 10 underground parking spaces in the 10-unit apartment building. Each spot will be offered for a whopping $1 million, which will cover the full term of a 99-year lease, the New York Times reported. So, after all that money spent on a place to park their car, investors will not actually own the spot. But they will have a storage space and charging station.
The spots are spacious, between 150 and 200 square feet each, or $5,000 to $6,666 a square foot. The nine three-bedroom units upstairs will cost between $8.70 million, or about $3,170 a square foot, and $10.45 million, around $3,140 a square foot. The duplex penthouse will be listed for $25 million. And that doesn't include the monthly common charges for operational expenses.
In comparison, a 275-square-foot SoHo studio was listed for-sale-by-owner in November for a measly $295,000. "Good news: it has a bathroom. Bad news: the wall separating the bathroom from the kitchen is about three feet high,"Curbed New York wrote in its description of the so-called micro-dwelling.
NYC parking now literally costs a million bucks. A $1 Million Parking Spot http://t.co/b2WSQdFdZ7 by @michellehigginspic.twitter.com/pfYykuKhkV

— Candace Jackson (@candace_jackson) September 9, 2014
Only 23 percent of households in Manhattan ‒ the most expensive of the Big Apple's five boroughs ‒ own a car, NYCEDC.com reported. The average cost of rent there was $3,873 in July, while the median sales price of an apartment was $920,000 in the second quarter of 2014, according to real estate blog MNS and the Times, respectively.
But to the richest of the rich, having a private parking space in their apartment building adds caché.
"Most ultrahigh-net-worth individuals have car collections as well as service vehicles for their staff," Giles Hannah, a senior vice president at Christie's International Real Estate, told the Times. "Parking is in serious demand and has proven an excellent investment with no sign of a decline."
"When someone is paying $50 million for an apartment, another $500,000 for the luxury of not walking a block or two and having your own spot, I guess it becomes a rounding error," Izak Senbahar, the president of the Alexico Group, said.
The city is becoming known for its massive wealth gap and how it shows in real estate. In July, the New York City Department of Housing Preservation and Development approved plans for a 33-story high-rise on the Upper West Side that will sport 219 luxury units and 55 affordable ones. But the wealthy residents won't have to rub elbows with the building's "poor," as the two sets of units will have separate entrances. While wealthy residents will be able to enter the building from its designated front entrance, affordable housing tenants will be required to go in through a back alley.
"This 'separate but equal' arrangement is abominable and has no place in the 21st century, let alone on the Upper West Side," Assemblywoman Linda B. Rosenthal (D-UWS) said to local news outletWest Side Rag when the plans were unveiled. "A mandatory affordable housing plan is not license to segregate lower-income tenants from those who are well-off. The developer must follow the spirit as well the letter of the law when building affordable housing, and this plan is clearly not what was intended by the community."
The founder and chief executive of the brokerage firm CORE in Manhattan, which is handling the sales and marketing at 42 Crosby, sees nothing wrong with how the development is pricing the parking spaces.
"We're looking at setting the benchmark," Shaun Osher told the Times. "In real estate, location defines value and parking is no exception to that rule."
In SoHo, Osher added, there are "few to no options" for parking, let alone a private spot in your own building.
You can share this story on social media: