NRA goes head-to-head against billionaire Bloomberg's anti-gun campaign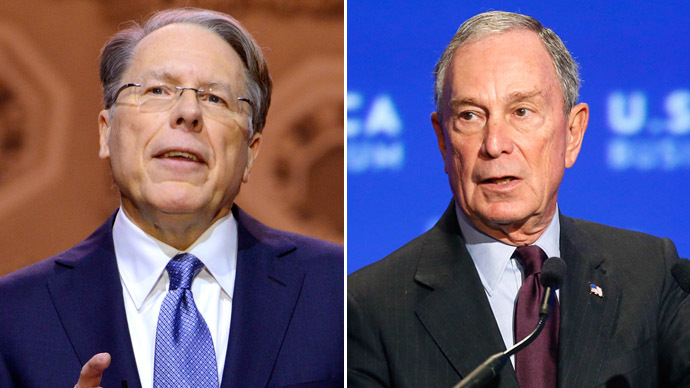 The National Rifle Association and its 5 million members are attempting to win over US public opinion in the debate over guns against the efforts of former New York City Mayor Michael Bloomberg as midterm elections approach.
Bloomberg, the media magnate and former New York City mayor, has unveiled his latest attack on American gun owners, taking the battle to where it will be felt the most: corporate profits.
Kroger, the largest grocery franchise in the United States, is one of many American companies that permits its customers to openly carry guns in its stores. While the NRA says such policies serve to protect individuals in the event of a shooting spree, Bloomberg's Everytown for Gun Safety organization is against such a practice.
"In all states, but especially those where gun laws are lax, businesses have an obligation to protect their employees and patrons," Shannon Watts, founder of Moms Demand Action, said in a statement.
Kroger's responded to the criticism, saying that it abided by the law on a state-to-state basis.
"We know that our customers are passionate on both sides of this issue and we trust them to be responsible in our stores," Keith Dailey, Kroger's director of media relations told the Washington Post.
However, it remains to be seen whether Kroger's will be able to maintain its pro-carry position in the face of the Bloomberg-supported campaign, which has taken to social media to shame companies into complying with its demands.
Won't be shopping at @Kroger until I know I won't come face to face with an open-carry extremist. #GroceriesNotGunshttp://t.co/nYQ2X0Eio6

— Susan Rukeyser (@SusanRukeyser) September 5, 2014
Meanwhile, the NRA struck back with an ad that labels Bloomberg as a "billionaire, elitist, and a hypocrite," who not only wants to limit gun rights, but is infamous for supporting "nanny state" policies.
"Bloomberg tries to ban your snack foods, your soda and most of all, your guns," declares the narrator of the ad.
But now the NRA, with its sites on the upcoming midterm elections in November, has taken a different tack in an effort to hit a nerve with average Americans who share the belief that America, in the words of the NRA, "is off the rails."
The 16-ad campaign, which plays on the idea of restoring America's vanquished "good guys," feature a variety of NRA members – African-Americans, women, men - who are disheartened by the "dishonesty, corruption and abuse" that they claim has infected the United States.
Hey The Kroger Co., our families want #GroceriesNotGuns. End open carry in your stores! https://t.co/ISISVZGMBX

— Everytown (@Everytown) September 2, 2014
From the world of entertainment, to the media industry, to the halls of political power, few are spared criticism.
One of the ads questions the activities of the National Security Agency, which was found to be conducting a massive domestic surveillance program: "What kind of government spies on its own people?"
The NRA campaign then took umbrage at the "free press," demanding that journalists, who "once served as freedom's fearless watchdogs," work on behalf of freedom as opposed to their "boss's script."
"What does it mean for a country when its citizens turn on the news and expect to be misled? Reporters who once served as freedom's fearless watchdogs feel like distant characters in a fading memory," the middle-aged narrator proclaimed. "Today, too many journalists are just actors, playing to their boss's script."
The ad then ratcheted up the pressure on the media industry, saying "If the free press won't protect free people, it's our job to demand they do it."
"Do the work you say it do…kick down the doors of any leader who deceives us," it continued, before concluding with the remark: "That's what the good guys demand."
Watch "Media Dishonesty," one of the spots from #NRA's TV campaign http://t.co/DghLepjHF8 Join http://t.co/EyDphh1NKMpic.twitter.com/etcMMYvogp

— NRA (@NRA) September 2, 2014
What sets this campaign apart from past efforts is that none of the clips mentions US gun policies; the focus instead is on what the creators believe is the dismal state of the nation.
Wayne LaPierre, the chief executive officer of the 5 million-member NRA, said the campaign was designed to represent the general anxieties of the American people with whom he has met over the course of his 23-year tenure as head of nation's most influential domestic lobby.
"This campaign is a gathering of shared values that gives a sense of right and wrong," LaPierre told The Washington Times. "They're worried the character of the country is at risk. It's all collapsing,"
"They care about their Second Amendment freedoms but understand that all freedoms are connected."
That is certainly a statement that Michael Bloomberg and his Everytown organization would disagree with.
You can share this story on social media: