#FightFor15: Fast food workers to strike for higher wages across US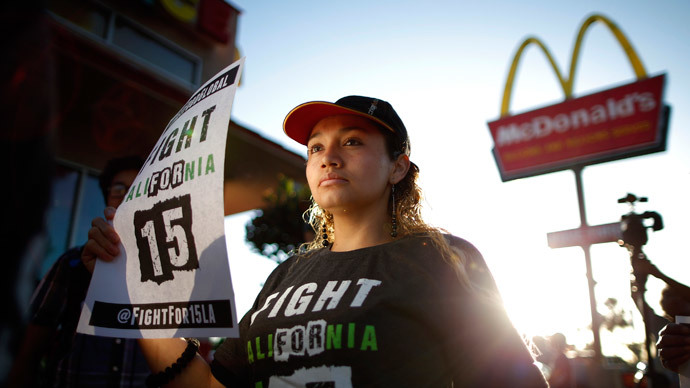 Hundreds of US fast food workers from MacDonald's, Burger King, Wendy's and KFC are planning a big protest on Thursday in an effort to boost the minimum wage to $15 per hour. The rally will include acts of civil disobedience.
The rally was announced by Fight For 15, a union of fast food and retail workers, which is seeking a $15/hour living wage.
"It's official: We're going ON STRIKE again on Sept 4!" wrote Fight For 15 in Chicago on Twitter.
The hashtag #FightFor15 has already gone viral on Twitter with many internet users pledging support for the protest.
The organizers said the rallies are planned to be held in more than 100 cities across the country. This time workers will be peacefully engaged in acts of civil disobedience, said Kendall Fells, an organizing director for Fast Food Forward.
"They're going to use nonviolent civil disobedience as a way to call attention to what they're facing," Mary Kay Henry, president of the Service Employees International Union, one of the sponsors, told the New York Times. "They're invoking civil rights history to make the case that these jobs ought to be paid $15 and the companies ought to recognize a union."
The workers involved in the rally are ready to be arrested as they try to get their message across, the organizers of the Fight for $15 movement said, as reported by the Orlando Sentinel.
It's official: We're going ON STRIKE again on Sept 4! http://t.co/Yi8S5JN9ah#StrikeFastFood#FightFor15

— Fight For 15 (@fightfor15) September 1, 2014
The fast food campaign is aimed at bringing attention to the problems fast food workers face, which few customers think about while buying burgers and fries, Catherine Fisk, a professor of labor law at the University of California in Irvine, told AP.
"The goal is to persuade workers that it doesn't have to be this way. The goal is to persuade consumers that it doesn't have to be this way," she said. "This is about getting attention to the issue."
Douglas Hunter, a fast food worker, who has worked at a McDonald's for five years, told the Chicago Tribune on Monday that he is "really struggling trying to make ends meet."
"I'm prepared to do whatever it takes to get McDonald's to the table to discuss increasing my pay to $15 an hour," he added.
According to the National Restaurant Association, the protests are the unions' attempts "to boost their dwindling membership." The industry lobbying group said it hopes that organizers of the rallies will respect both customers and workers during their demonstrations.
The federal minimum wage of $7.25 an hour for fast food workers was last raised in 2009. On February 12, President Obama, responding to heat in the fast food kitchen, agreed to raise the minimum wage for federal employees to $10.10 an hour.
It remains to be seen if the president's political maneuvering, in what promises to be a hostile election year, will force the fast food corporations to follow suit and give their workers an honest wage.
I know that if I go all the way y'all are gonna go all the way with me. #FightFor15pic.twitter.com/Ugf7DK23SV

— $15 and a Union (@15andaUnion) September 1, 2014
Thursday's strike is the latest in a series of protests launched by labor groups to demand an increase in the minimum wage. In July, more than 1,300 low-wage employees gathered at a convention in Chicago to coordinate their demands for higher wages.
More than 100 protesters arrested at McDonald's HQ demanding fair pay
May 15th has been declared a global day of solidarity for fast food workers in the 150 US cities and 33 countries worldwide, who held rallies in an effort to boost the minimum wage to $15 per hour.
Spanning five continents, the global movement brought together thousands of employees from the industry's heavy hitters, who have not only revolutionized the way the world eats, but are now an integral part of the labor market: McDonalds, Burger King, Wendy's and KFC.