'Gun boom' in the US is over, but weapon sales still high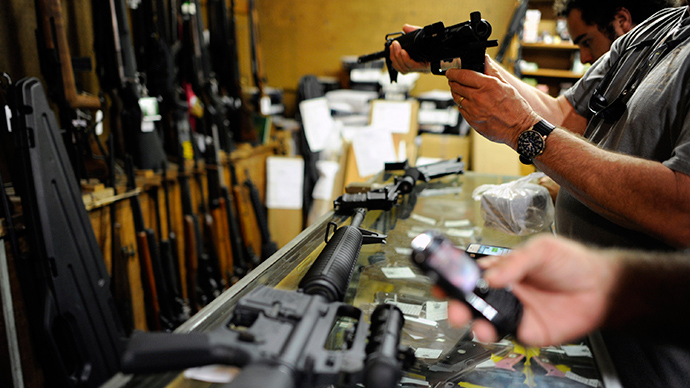 Gun sales in the United States have slipped in 2014 compared to last year, but they're still higher than at any other point in the last decade.
Over the last three months, sales at the gun manufacturer Smith & Wesson dropped 23 percent, with profits declining 32 percent compared to the same quarter in 2013. The news was similar at Sturm, Ruger & Co., which saw profits shrink 31 percent, and Colt Manufacturing, where a net loss of $7 million was documented.
According to the Huffington Post, these declines have been attributed to less intense demand on the part of gun buyers. Typically, gun sales have spiked in the wake of violent incidents – the Sandy Hook Elementary School massacre, for example – as buyers fear a government crackdown on arms purchases.
For the last seven months, though, that motivation has been lacking – although RT reported that gun sales did surge near Ferguson, Missouri, after continued protests over the officer-involved shooting of teenager Michael Brown.
Government data released earlier this year also shows that Democratic presidents, in general, tend to boost gun sales, since they are usually seen as in favor of gun control.
At the same time, the National Shooting Sports Foundation found that while the FBI did conduct fewer criminal background checks on gun buyers this year compared to last, the numbers are still notably high. So far in 2014, 6.95 million background checks have been conducted. That's down from the high of 8.81 million last year, but it's still higher than any other year since at least 2005.
"Are consumers buying more guns than last year? No, they are not," analyst Andrea James, of the financial services firm Dougherty and Company said to Huffington Post. "But are consumers buying more guns than two, three, four, five years ago? Yes, they are."
One reason gun makers saw such large drops in their sales is that heavily discounted firearms have made their way into the market as well, driving down prices and giving people alternatives as they shop around. These cheaper weapons pose a significant threat to traditional gun makers, so much so that Sturm, Ruger & Co. highlighted them as a key reason for its sharp sales decline.
"Gun distributors have found cheaper manufacturers to buy from," Brian Ruttenbur, an analyst with CRT Capital, told the Post. "We don't know who it is -- because the distributors are private and don't share this information -- but someone in the market is dumping product into the retail chain."
You can share this story on social media: