Islamic State threatens to 'drown' American targets in blood in new video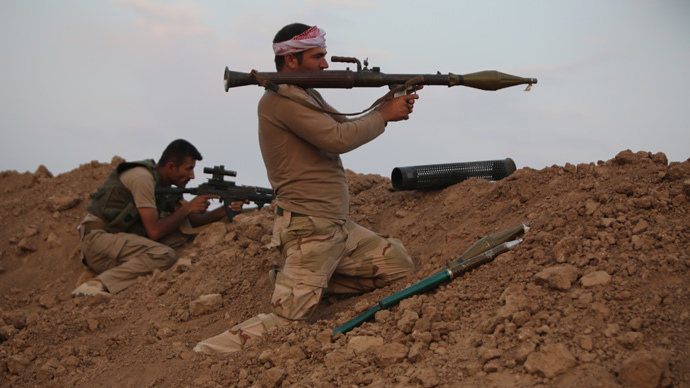 As Iraqi forces retake control of the country's largest dam, a video by Islamic State militants have vowed to "drown" American targets in blood if the United States continues to launch airstrikes against the group.
Specifically, the militants said that they would launch attacks against Americans "in any place" if their members are killed by airstrikes, Reuters reported. The recording also showed images of an American man who was beheaded during the initial war in Iraq and flashed a message that read, "we will drown all of you in blood."
The video's release comes as President Barack Obama announced Iraqi and Kurdish security forces, with the help of US air power, were able to regain control of the Mosul Dam, marking the most significant victory for Iraq's military since American airstrikes began more than one week ago.
"This operation demonstrates that Iraqi and Kurdish forces are capable of working together and taking the fight to ISIL [Islamic State]," Obama said on Monday. "If they continue to do so, they will have the strong support of the United States of America."
When the dam fell into the hands of militants earlier this month, officials and other experts became concerned since the Islamic State gained the ability to potentially cut off electricity and water to tens of thousands of people. If destroyed, the dam could have also overwhelmed two different cities with water.
"If that dam was breached," Obama said, "it could have proven catastrophic, with floods that would've threatened the lives of thousands of civilians and endanger our embassy compound in Baghdad."
The victory is something of a morale booster for Iraqi forces, who one official said will make recapturing Mosul their next priority.
"The new tactic of launching a quick attack shrouded by secrecy proved successful and we are determined to keep following the new assault tactics with help of intelligence provided by Americans," Sabah Nouri, a spokesman for Iraq's counter-terrorism unit, told Reuters. "The next stop will be Mosul."
While Obama said the US military would continue to conduct airstrikes and provide humanitarian support, he once again noted that a long-term solution to the country's problems could only come from Iraqis themselves. He expressed hope that incoming prime minister, Haidar al-Abadi, would help heal the sectarian strife plaguing Iraq.
Outgoing prime minister, Nouri al-Maliki, was often criticized for freezing out Sunni Muslims from his Shia-dominated government, a problem that in some ways helped the Islamic State gain a foothold in the country.
Disaffected Sunnis lent their support to or at least tolerated the militant group, which managed to make rapid gains through western Iraq. Once in control of large swathes of territory, IS militants threatened to kill anyone who did not convert to their extreme brand of Islam – an ultimatum that put tens of thousands of lives at risk and triggered renewed military action by the US.
You can share this story on social media: