Texas Gov. Rick Perry indicted for abuse of power
Published time: 15 Aug, 2014 23:03
Edited time: 16 Aug, 2014 01:03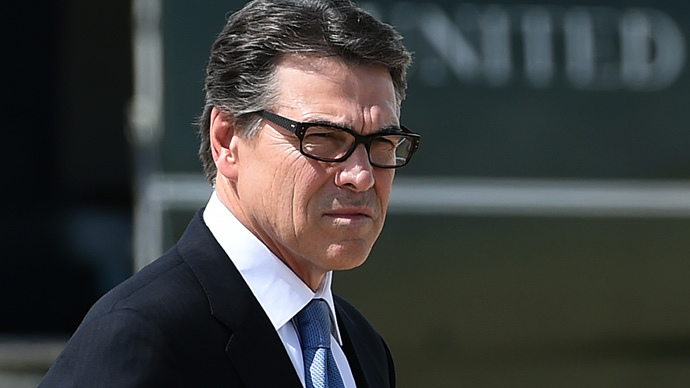 Texas Governor and former presidential candidate Rick Perry has been indicted for allegedly abusing his power by vetoing state funding for the government watchdog group charged with investigating corruption and police scandals.
According to the Associated Press, a grand jury indicted the Republican governor on Friday for fulfilling a veto threat that consisted of withholding funds for the state's anti-corruption group, the Public Integrity Unit.
This marks the first time in almost 100 years that a Texas governor has been indicted.
Perry was charged with felony counts of abuse of official capacity and coercion of public servant. The first charge carries a maximum punishment of five to 99 years in prison, while the second is punishable by up to 10 years behind bars.
A copy of the indictment against Texas Governor Rick Perry: pic.twitter.com/EurECsZ6sH

— KVR News (@KVRNews) August 15, 2014
According to local KVUE news anchor Tyler Sieswerda, the prosecutor in charge confirmed that Perry will be booked next week.
Perry's general counsel, Mary Anne Wiley, defended his behavior and predicted the governor would be acquitted.
"The veto in question was made in accordance with the veto authority afforded to every governor under the Texas Constitution," she said. "We will continue to aggressively defend the governor's lawful and constitutional action, and believe we will ultimately prevail."
BREAKING UPDATE: Prosecuter confirms, Perry will be booked next week. @KVUE@Amber_Downing

— Tyler Sieswerda (@TylerS_KVUE) August 15, 2014
The charges come after Perry's 2013 veto threat, which would have withheld $7.5 million in funding for the Public Integrity Office if its leader, District Attorney Rosemary Lehmberg, refused to resign her post. Lehmberg was arrested for driving drunk but declined to step down, saying instead she would not seek reelection in 2016. Perry carried out his threat using a line-item veto on a state budget appropriations bill, sparking a showdown with a grand jury.
"Despite the otherwise good work of the Public Integrity Unit's employees," Perry said after he issued the veto, "I cannot in good conscience support continued State funding for an office with statewide jurisdiction at a time when the person charged with ultimate responsibility of that unit has lost the public's confidence."
Although Perry is allowed to veto parts or all of any legislation passed by state lawmakers, his actions drew fire from the Texans for Public Justice (TPJ) watchdog group, whose ethics complaint stated the governor was effectively using his veto power to coerce Lehmberg into leaving her job.
"Threatening to take an official action against her office unless she voluntarily resigns is likely illegal," TPJ director Craig McDonald said following Perry's veto. "The governor overstepped his authority by sticking his nose in Travis County's business."
The grand jury decided Perry's bullying crossed the line into law breaking. Any gov under felony indictment should consider stepping aside.

— TexansPublicJustice (@TxPublicJustice) August 15, 2014
In the wake of having its funding removed, the Public Integrity Unit remained open since Travis County agreed to support a smaller undertaking, but two employees were laid off. Another 18 either retired early or were reassigned.
"It's awfully convenient that Governor Perry vetoed money for the state's ethics enforcement office while his administration and his cronies have a history of making ethically questionable decisions," Emmanuel Garcia, a spokesman for the Texas Democratic Party, said in April to Bloomberg.