100,000-petition urges US to drop legal action vs Pulitzer-winning journalist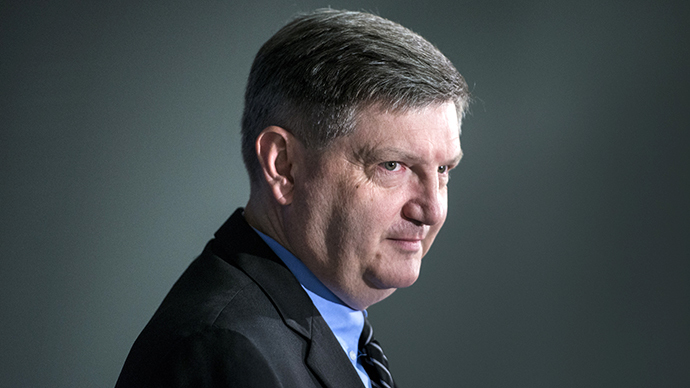 A petition with over 100,000 signatures backing Pulitzer-winning journalist James Risen was handed to the Department of Justice in Washington, urging an end to legal action against him for refusing to reveal a source about a CIA operation in Iran.
The petition demands that the US government not pursue an "illegal case" against Risen, an author and two-time Pulitzer Prize-winning New York Times reporter, as his supporters believe that it will be in violation of his First Amendment freedom of speech rights. The appeal was put together by Roots Action. The petition handed in to the DoJ contained 4,000 pages of signatures and was decked out in red, white and blue ribbons.
Risen has been subpoenaed to give evidence about who gave him the information, but refuses to reveal his source, saying that it would be a breach of his civil liberties.
Speaking to RT, Risen said: "I don't want to get into any details about the case but I can just say this is all about the issue of press freedom in America and about whether we are going to have the continued regression of investigative reporting in America."
Risen's book "State of War," published in 2006, addressed how the CIA tried to project a negative image of Iran's nuclear program under the presidency of George W. Bush. He was allegedly given the information by Jeffrey Sterling, a former Central Intelligence Agency employee who was later charged under the Espionage Act for allegedly disclosing CIA secrets to the New York Times reporter.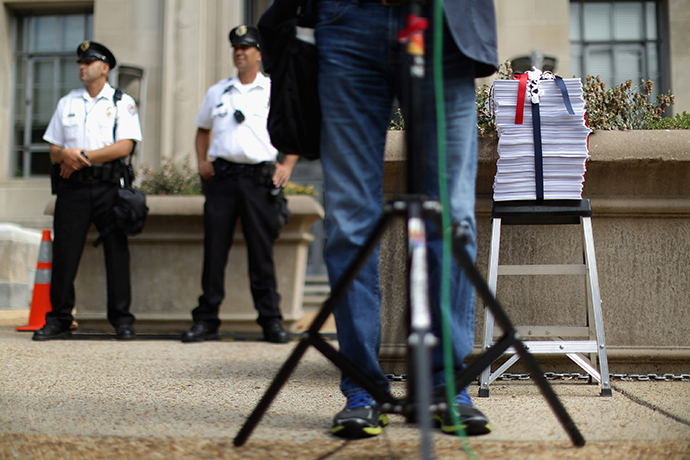 Speaking at the handing over of the petition outside the DoJ, Courtney Radsch, a journalist, author and member of the Committee to Protect Journalists, said it was crucial that Risen's journalistic integrity was kept intact.
"The ability to keep sources confidential is essential to the practice of journalism, and it's very difficult for journalists to be able to do their job, which is upholding democracy and ensuring that the government is transparent and accountable, if they're not allowed to keep their sources confidential," Radsch said.
Federal prosecutors could jail Risen if he continues to resist efforts to have him testify. On August 11, a group of his colleagues issued statements condemning the DoJ's pursuit of a journalist's source.
"Enough is enough," three-time Pulitzer winner David Barstow pleaded in a statement released along with 13 other colleagues. "The relentless and by all appearances vindictive effort by two administrations to force Jim Risen into betraying his sources has already done substantial and lasting damage to journalism in the United States."
"If you value a vibrant free press, you want the Jim Risens of the world out hunting for the toughest truths about how power is used and abused. You don't want them rotting in jail cells. Do we really want to be that kind of country?" Barstow said.
Risen's two Pulitzers were for his work reporting on the warrantless wiretapping program waged by the US government under then-President George W. Bush, and for his reporting in the aftermath of the September 11, 2011 terrorist attacks.