Pulitzer Prize winners demand DOJ stops threatening New York Times journalist with jail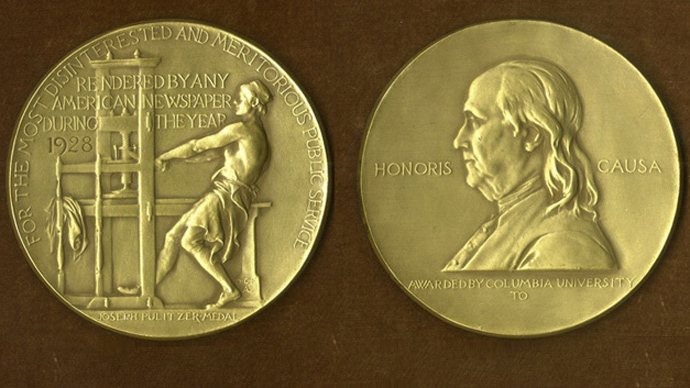 A coalition of 14 Pulitzer Prize-winning journalists issued statements this week in support of James Risen, a New York Times reporter who faces possible imprisonment for refusing to disclose the identity of a source to the United States government.
Risen was first subpoenaed in 2008 to testify in the case against James Sterling, a former Central Intelligence Agency employee who was later charged under the Espionage Act for allegedly disclosing CIA secrets to the Times reporter. Risen was subpoenaed again when the first court order expired, and unsuccessfully appealed to the US Supreme Court earlier this year in an effort to have the country's top justices revoke the request to have the journalist testify during the Sterling trial.
Federal prosecutors can now seek to jail Risen if the journalist continues to fight their efforts to have him testify, and on Monday a group of his colleagues issued statements condemning the Justice Department's pursuit of a journalist's source.
"Enough is enough," three-time Pulitzer winner David Barstow pleaded in a statement released with those from 13 others on Monday. "The relentless and by all appearances vindictive effort by two administrations to force Jim Risen into betraying his sources has already done substantial and lasting damage to journalism in the United States."
"If you value a vibrant free press, you want the Jim Risens of the world out hunting for the toughest truths about how power is used and abused. You don't want them rotting in jail cells. Do we really want to be that kind of country?" Barstow added.
"I join my colleagues in supporting James Risen. The government should let him -- and us -- do our jobs without harassment," opined Walt Bogdanich, who has earned three Pulitzers on his accord for work with both the Times and the Wall Street Journal.
On his part, Risen has won two Pulitzers: one for his work reporting on the warrantless wiretapping program waged by the US government under then-President George W. Bush, and another for his reporting in the aftermath of the September 11, 2011 terrorist attacks.
Roots Action, the group that is gathering statements from journalists in support of Risen, say they also plan to deliver more than 100,000 signatures to the Obama administration asking the Justice Dept. to end its pursuit of the journalist's source. On Thursday, the group plans to hold a news conference at the National Press Club in Washington, DC, where Risen himself is expected to speak
Meanwhile, Colby College in the state of Maine announced this week that will honor Risen later this year with a reward for courageous journalism.