Anonymous launches #OpFerguson after cop kills unarmed Missouri teen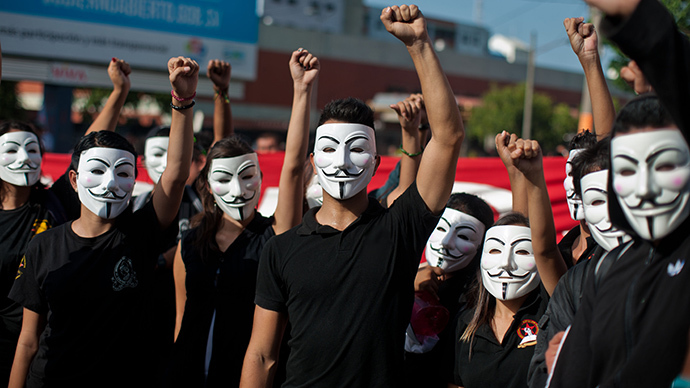 Hacktivists have set their sights on the town of Ferguson, Missouri after police there on Saturday shot and killed an unarmed man, 18-year-old Michael Brown, elevating a wave of protests that have occurred in the days since to the digital realm.
Demonstrations and vigils across the St. Louis, MO suburb have taken place ever since Saturday afternoon's incident in which Brown was shot eight times by a Ferguson cop after an altercation allegedly occurred between the two, reportedly just days before the victim was expected to begin college. By Sunday, however, peaceful protests aimed at raising awareness of the shooting death began to turn violent in the city of barely 20,000, and local law enforcement responded to reports of riots and looting by deploying SWAT teams and heavily weaponized police.
Members of the hacktivist group Anonymous — the internationally dispersed collective of hackers and activists that has previously waged campaigns targeting law enforcement organizations, government agencies and various corporations, among other entities, considered to be corrupt — responded to the shooting by issuing a statement on Sunday advocating for changes involving the use of force by law enforcement.
"Anonymous demands that the Congressional Representatives and Senators from Missouri introduce legislation entitled 'Mike Brown's Law' that will set strict national standards for police conduct in the USA. We further demand that this new law include specific language to grant the victims of police violence the same rights and prerogatives that are already enjoyed nationwide by the victims of other violent criminals. The Equal Protection clause of the US Constitution demands nothing less," reads a portion of the statement posted to the web Sunday afternoon.
"To the good people of Ferguson, take heart - and take your streets. You are not alone, we will support you in every way possible," it continues. "Occupy every square inch of your city. Open your homes and help in any way you can the protesters who will come to your city from every part of Missouri and the USA. Businesses and householders that are near protest rallies, open your WiFi routers so that live streamers and other independent journalists can use the Internet connections. Feed each other, keep each other safe - and stay in the streets until we are totally victorious in all our demands."
In the same statement, though, Anonymous warns the Ferguson Police Department to fear the repercussions of any action they may take against the demonstrators descending on the city to both show their support for Brown's family and rally against acts of violence committed by the cops.
"To the Ferguson Police Department and any other jurisdictions who are deployed to the protests: we are watching you very closely," the message continues. "If you abuse, harass - or harm in any way the protesters in Ferguson we will take every web based asset of your departments and governments off line. That is not a threat, it is a promise. If you attack the protesters, we will attack every server and computer you have. We will dox and release the personal information on every single member of the Ferguson Police Department, as well as any other jurisdiction that participates in the abuse. We will seize all your databases and E-Mail spools and dump them on the Internet. This is your only warning."
But according to local media, Anonymous may have already moved forward with #OpFerguson, as hacktivists have labeled their latest campaign: early Monday, Missouri's KMOV News reported over the network's official Twitter account that Anonymous "hacked into the City of Ferguson website" hours earlier, and that all city email accounts had been taken offline as a result.
Confirmed: Anonymous group hacked into the City of #Ferguson website last night. All city emails are down.

— KMOV (@KMOV) August 11, 2014
"According to officials, none of the city's emails were working Monday morning. Anticipating a problem, the mayor of Ferguson had the IT Department take down all personal information from the site on Saturday," KMOV reported.
Previously, Anonymous and its offshoots have waged similar campaigns against police departments and government agencies in retaliation for other conduct considered by hacktivists to warrant web-based responses. In September, John Anthony Borell III of Toledo, Ohiop was sentenced to three years in prison for hacking the websites of several law enforcement agencies across the US in early 2012; another hacktivist, Jeremy Hammond, is currently serving 10 years for pleading guilty to a crime spree that included the California Statewide Law Enforcement Association and computer servers used by various New York State police chiefs among its targets.
You can share this story on social media: