Associated Press in hot water over tweets again, this time for alleged racial bias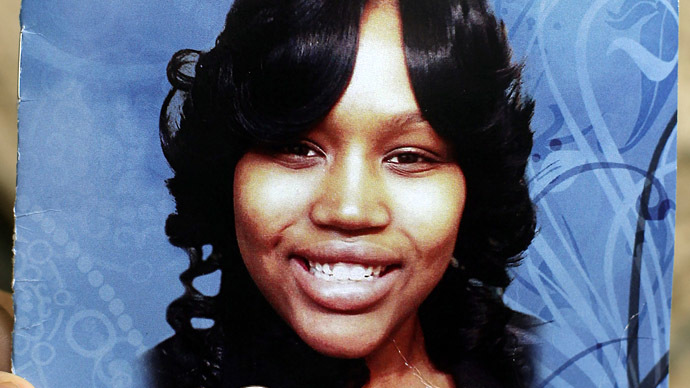 Once again, the Associated Press Twitter feed was the subject of public ire on Thursday, as the news wire was accused of racial bias in its reporting of the verdict against a Michigan man who shot and killed 19-year-old Renisha McBride on his porch.
Theodore Wafer, 55, was convicted of second-degree murder for the shooting death of McBride last November. McBride had approached Wafer's home in Dearborn Heights, Michigan, reportedly seeking assistance after her car broke down nearby. Wafer, who is white, claimed he fired on the diminutive African-American woman out of self-defense.
AP's framing of the case angered many on the social media site, who saw the tweets - which never named McBride - as dehumanizing and tilted in favor of her assailant.
BREAKING: Suburban Detroit homeowner convicted of second-degree murder in porch shooting.

— The Associated Press (@AP) August 7, 2014
AP deleted the second and third tweets above, then offered a clarifying tweet.
Jury convicts Michigan man in killing of unarmed woman on his porch (rewords language from previous tweet): http://t.co/2nyobBY4Fx

— The Associated Press (@AP) August 7, 2014
But the reworded tweet came after Twitter users began to mock and shame AP for its handling of the verdict, using the hashtag #APHeadlines.
Alabama Gov. Wallace Opens New Chain of Water Parks #APHeadlinespic.twitter.com/0zqLkYAqAX

— NIGris Elba (@hosienation) August 7, 2014
#APHeadlines Aggressive black woman refuses to move to the back of the bus; Delays bus schedule. pic.twitter.com/Cq3Ggt89vZ

— W.E.B DemBois (@Phil_Cosby_) August 7, 2014
Black people in Detroit participate in collective water fast to curve rising cost of living expenses #APHeadlines

— Dr. Kortney Ziegler (@fakerapper) August 7, 2014
Eric Garner Hugged to Death by Caring NYPD Officers #APHeadlines

— Vee (@Vivaciously_Val) August 7, 2014
Birmingham police confused when Black children reject free dogs unleashed on them in the summer of 1963. #APHeadlinespic.twitter.com/DwKBkbzz90

— Smiley (@Smiley_JWJ) August 8, 2014
Slaves offer to work the land for strangers for free! Land owners surprised and thankful for their gracious gesture #APHeadlines

— Dustin D. Young (@yngdstn) August 8, 2014
New Orleans Residents Complain Bitterly About Free Seaside Vacation #APHeadlines

— Anat Shenker-Osorio (@anatosaurus) August 8, 2014
Israel continues to defend itself against dead children in Gaza. #APHeadlines

— Lani L (@LaniLanyLanee) August 8, 2014
This is an actual example of @AP reporting. Retweet to fight journailistic racism. #APheadlinespic.twitter.com/1jMn0LxfXV

— Nostradeptus (@adept2u) August 7, 2014
Last month, AP was roundly criticized on Twitter for careless tweeting about the transport of Flight MH17 crash victims from Ukraine to the Netherlands.