US launches 2 spy geo-satellites to track 'nefarious capability' of other nations
Published time: 29 Jul, 2014 09:14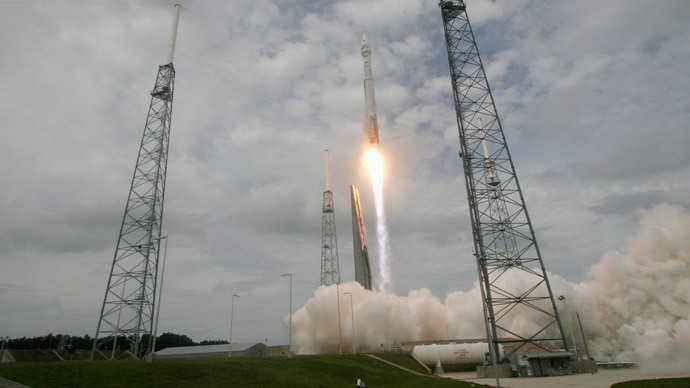 The US Air Force has successfully orbited two geosynchronous satellites to monitor all other space devices operating on the same strategic orbit, because of the "nefarious capability" other nations might try to place up there, an American general said.
Two Geosynchronous Space Situational Awareness Program (GSSAP) satellites will maneuver above and below a 35,970 kilometer geosynchronous orbit, where practically all modern massive communication satellites are stationed, to take a closer look and make "portraits" of every object currently occupying a position there.
The 63-meter-tall Delta IV rocket (Medium+ configuration, two solid fuel rocket boosters), built by the Lockheed Martin/Boeing joint venture United Launch Alliance, with two GSSAP satellites and a small ANGELS program experimental satellite, blasted off at 7:28 PM EDT from Patrick Air Force Base at Cape Canaveral, Florida.
Neither the costs, nor technical details of the GSSAP program have so far been released.
Originally, the launch was due to take place July 23. But after a technical issue with ground support equipment, and then three delays due to poor weather conditions, the booster blast off took place from Launch Complex 37 on Monday.
"This neighborhood watch twosome will help protect our previous assets in geo, plus they will be on the lookout for nefarious capability other nations may try to place in that critical orbital regime," the head of US Air Force Space Command, General William Shelton, told reporters. "We will learn a great deal about the geo traffic with the images produced from these two satellites."
Both satellites could easily change their orbit position so that operators on the ground could have "the best possible vantage point for collecting images when required," Shelton said, "to improve space situational awareness."
"A picture is worth a thousand inferences because we can see literally what that [foreign] satellite looks like, and you can effectively reverse-engineer and understand what the capabilities are... to a much greater extent than you can today," Shelton said.
Another task for GSSAP satellites will be tracking space junk. The US Air Force currently tracks about 23,000 pieces of space junk as small as 10 centimeters in diameter, Reuters reported.
Shelton confirmed to reporters that a backup set of two satellites will be delivered to orbit in 2016.
Designed by Orbital Sciences, the GSSAP project was effectively top secret until February, when Shelton mentioned it in a speech along with other space programs.
The GSSAP program "will bolster our ability to discern when adversaries attempt to avoid detection and to discover capabilities they may have which might be harmful to our critical assets at these higher altitudes," Shelton said in the speech.
The GSSAP is part of the US's future Space Based Space Surveillance (SBSS) system that will be formed by a whole constellation of satellites to enable the US to track down space objects in various orbits around the planet.
Shelton made no secret that GSSAP was aimed at possible space conflicts, when some nation might try to shoot down or disable American military satellites that form the backbone of US intelligence, missile targeting and communication capabilities.
"There are myriad counter-space threats that we are seeing on the near horizon," he said, promising to "adjust our spacecraft constellations to survive in a very different environment from what we've had in the past."
The GSSAP satellites "could certainly be considered offensive," Defense News reported Marco Caceres, an analyst with the Teal Group, as saying. "Obviously, the US Air Force is primarily thinking of it as defensive or simply from a maintenance and repair standpoint. But if you have the ability to get close enough to other satellites to observe or repair or refuel, then sure, you could probably take them out."
But Defense News reported Shelton as saying: "We do have an inherent right to safely maneuver around and monitor potentially threatening satellites."