Amputation instead of circumcision? Man sues hospital after surgery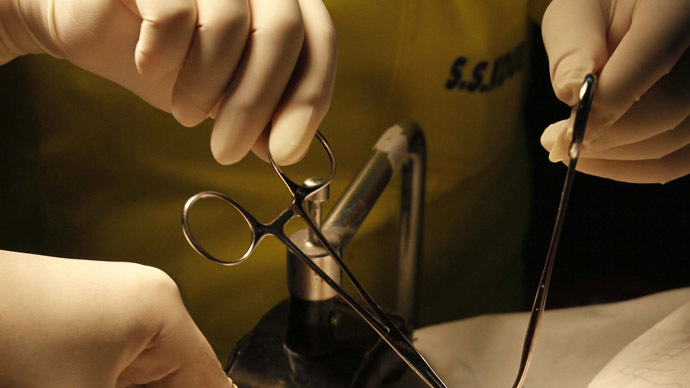 ​An Alabama man says doctors mistakenly removed his penis during what was supposed to be a routine circumcision procedure, and now he has filed suit against the physicians and hospitals involved.
According to the lawsuit filed on Tuesday this week in state court, Johnny Lee Banks Jr. emerged from what should have been a standard circumcision surgery at Princeton Baptist Medical Center last month with more of him missing than he had anticipated.
"When the plaintiff ... awoke from his aforesaid surgical procedure, his penis was amputated," Al.com journalist Kent Faulk quoted from the lawsuit. The plaintiffs "never gave consent for the complete or partial amputation of (his) penis."
"My client is devastated," Banks' attorney, John Graves, told Reuters this week.
The Associated Press reported that, according to the suit, Banks was never told ahead of the procedure that amputation could occur as a result. He and his wife are now suing the Princeton facility, Urology Centers of Alabama, the Simon-Williamson Clinic and two doctors in a suit that accuses them of medical malpractice, negligence and other wrongdoing. Attorneys for Banks insist their client has suffered extended pain and suffering during his recovery, has spent additional time in the hospital recovering and has been caused to spend more money. Additionally, Faulk reported, Banks' wife also is claiming loss of consortium.
On their part, the defendants have so far fought the charges adamantly.
"We intend to defend all counts aggressively," Baptist Health System Inc., which operates one of the facilities, responded to the charges.
According to the AP, representatives at Princeton Baptist Medical Center previously said the claims are without merit.
"When the facts become known this will be seen as an unfair attempt to damage the reputations of dedicated physicians and their outstanding clinics with sensational claims that are completely false," added Will Axon, a defense lawyer representing both doctors named in Banks' suit.
As peculiar as Banks' predicament is, he is far from the only circumcision patient to suffer the same fate: as RT reported previously, a Kentucky men claimed in court that his penis was amputated after the doctors who operated on him in 2007 said they found signs of cancer and had "no reasonable option" other than removing the entire penis unbeknownst to the patient.
In the case of Banks, neither side of the suit has explained yet why, exactly, the plaintiff's penis was allegedly removed.