NYPD baffled by white flags placed atop Brooklyn Bridge
Published time: 23 Jul, 2014 03:59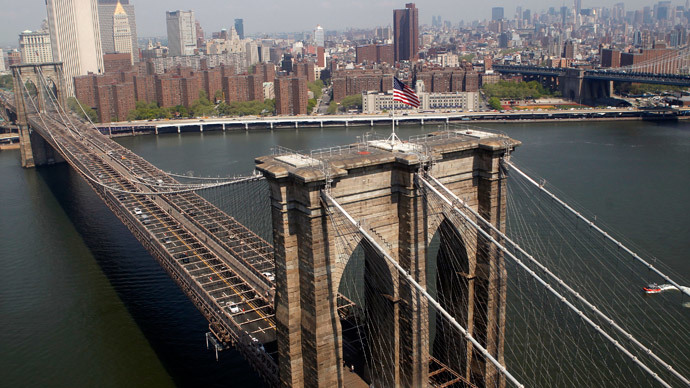 ​The American flags placed above the Brooklyn Bridge were apparently bleached into white flags Tuesday morning, leaving New Yorkers and law enforcement authorities baffled as to who or why anyone would do such a thing.
According to theAssociated Press, the New York Police Department believes a group of four or five people is responsible for the incident. Security footage reportedly shows the suspects walking along the bridge's footpath around 3:10 a.m. About 20 minutes later, the light on the bridge's Brooklyn tower goes dark, while the light on the Manhattan tower goes out 12 minutes after that.
The NYPD's deputy commissioner for counterterrorism and intelligence, John Miller, said that authorities do not suspect a link to terrorism, a sentiment that was backed up by Police Commissioner William Bratton.
''We don't take these things lightly, or as a joke, or as art or within the realm of speech,'' Miller told AP. ''These are issues of trespass – they put themselves in danger, they put others in danger – and that's why we investigate it.''
Speaking anonymously with the New York Post, one unnamed law enforcement source expressed relief that the situation wasn't more serious.
"We're lucky they just put a flag up there – and not a bomb," the official said. "It could have been terrible. Who knows how much damage it could have done. It's an embarrassment."
Mystery white flag above Bklyn Bridge. Pic by Rick Bruner. http://t.co/bxlo9dPUefpic.twitter.com/AahZBz2FOG

— Andy Newman (@andylocal) July 22, 2014
The incident raised concerns about lax security at one of the United States' most famous landmarks, particularly since the site is subject to widespread security in the form of 24-hour surveillance by patrol cars as well as cameras at the base of the bridge. Additionally, the trespassers also had to scale a bridge cable and locked gate in order to gain access to the top of the towers.
"It amazes me nobody saw anything...I'm upset," bridge painter Nick Krevatas, who was called to switch the white flags with American ones on Tuesday, said to the Post. "Isn't there a better way to express yourself, couldn't they have used social media?"
Logistics aside, the purpose served by replacing American flags with white ones remains unclear. Police don't suspect that politics are a motivating factor, but they did not rule out the possibility that it's all part of some kind of art project.
With very few facts to fall back on, many observers took to social media to comment and poke fun at the incident. Rebecca Mead of the New Yorker joked to the New York Times that Manhattan was "surrendering to Brooklyn," while others suggested it was the work of aliens or, less interestingly, protesters.
@Bookgirl96@moorehn No, you have it backwards. It means that the city has surrendered to the hipsters (but this time, officially)

— marcus baram (@mbaram) July 22, 2014
Brooklyn Borough President Eric Adams, however, didn't find the jokes funny.
"If flying a white flag atop the Brooklyn Bridge is someone's idea of a joke, I'm not laughing," he told the Post. "The public safety of our city is of paramount importance, particularly our landmarks and bridges that are already known to be high-risk targets. We will not surrender our public safety to anyone, at any time."