Drunken TSA imposter groped women at San Francisco airport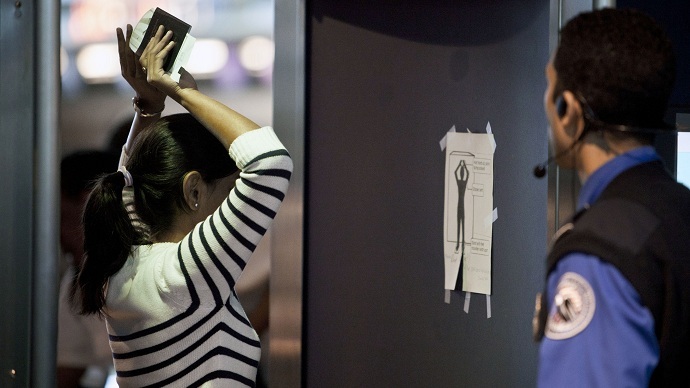 A man reportedly got drunk and posed as a Transportation Security Administration contractor at San Francisco International Airport in order to grope women in private pat-downs, before being discovered and arrested.
The 53-year-old San Francisco man, whom law enforcement sources identified as Eric McLean Slighton, impersonated a screener with the private Covenant security firm on Tuesday, the San Francisco Gate reported. Slighton was ticketed to fly to Hong Kong, where he also has a residence, and had passed through security earlier in the day, before spending several hours drinking in an airport lounge, police said.
Then, dressed in khakis, a blue polo shirt and blue rubber gloves - similar to those worn by Covenant screeners at SFO's international terminal - he entered the security area. He steered a woman going through security into a private screening booth used to pat down selected passengers.
"What happened inside isn't known, because the woman, who was Asian, soon disappeared to catch an international flight," the SFGate reported in its Matier and Ross column.
Slighton then tried again with a second woman. This time, however, he drew the attention - and suspicions - of the real screeners because male screeners are prohibited from taking women to the private booths without the presence of a female screener.
Covenant employees then detained the imposter until San Francisco police arrived and arrested the man. Officers said that, because security couldn't find any women who actually entered the booth with Slighton, they could only arrest him for suspicion of public drunkenness. However, if any women come forward or are otherwise identified, he could face additional charges, including sexual harassment and false imprisonment.
Slighton is a private-equity executive and one of four partners at Aktis Capital Singapore. Previously, he served as managing director of Barclays Capital in Hong Kong and Deutsche Bank in Hong Kong.
His father, Robert Slighton, told Matier and Ross that he was "extremely shocked" by the allegations. But, he admitted, his son has struggled with alcohol in the past.
"There was a time in the past when he had drinking problem, but that was 10 years ago," the elder Slighton said. "To the best of my knowledge, he doesn't drink at this time and he doesn't drink when he comes [to New York]."
Sgt. Wesley Matsuuraof the San Mateo County Sheriff's Office told the SFGate that the case went hush-hush after the TSA stepped in to take over the investigation.
"The incident raises disturbing questions about who's screening the screeners at SFO," Matier and Ross wrote.
Law enforcement officials hinted that someone would have to serve as a scapegoat for the incident.
"They will be (investigating) this for a week,'' said one law enforcement source, who asked not to be named because he was not authorized to speak about the case. "Someone has to pay for this.''
Slighton was released from county jail on Wednesday night "after signing a promise to appear in court for his arraignment" on August 18, San Mateo County District Attorney Steve Wagstaffe said Thursday. He has not yet been charged with a crime.