Elderly veteran arrested for asking gov't officials to speak louder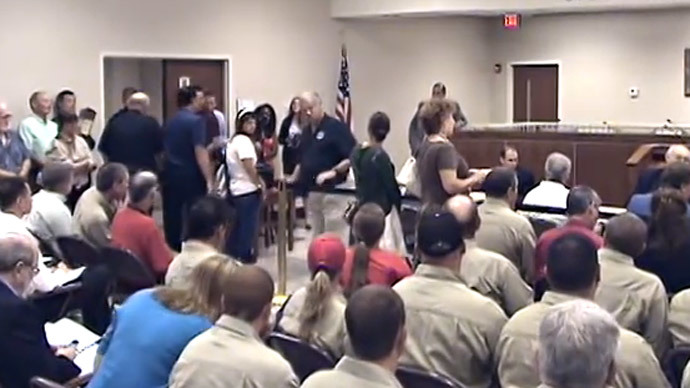 A 76-year-old military veteran was arrested for disorderly conduct at a public county board meeting for asking officials to speak up when they refused to use the microphones. The hearing was over a controversial new plant in the area.
The contentious meeting involved a group fighting a proposed US Nitrogen plant and its plans to build a pipeline that would empty into the nearby Nolichucky River in Greene County, Tenn. The meeting - promoted as being a public one - was Friday at 8 a.m., which citizens complained was designed to keep them from attending
In the meeting room, the county's board sat in a circle around a roped-off table at the front of the room, and did not use microphones or podium behind the table, several attendees said. At least four board members had their backs to the public viewing area.
"They, in writing, presented a 'public meeting', but did everything they could to confuse people as to when it would be, having during the worst time of day and while conducting it, making sure no could properly hear or understand what they were saying," Roberta Drake posted to the Save the Nolichucky Facebook page. "It was all a farce."
When citizens began complaining, Mayor Alan Broyles, who announced in January he would not be running for reelection, according to WJHL, warned, "If we have any more outbursts from the audience, you will be removed from the building."
At this point Eddie Bruce Overholt, who the Greeneville Sun describes as the owner of the popular CJ Papadops restaurant at Bybee and a well known figure in both Cocke County and western Greene County, stood up and said, "Would y'all speak up until the whole audience can hear you?"
Police, who were on standby at the meeting, then moved to Overholt and removed him from the room with his arms behind his back, as he asked, "Are you throwing me out from a public meeting?"
Overholt described what happened next in an open letter on Facebook, and shared by the Greeneville Sun.
"On the way down the steps the officer called for a transport, but very shortly canceled the transport, saying he was 'walking me down'… He told me his name was Dixon or Hixon, and very abruptly increased the pressure and lift on my right arm, pulling my shoulder up into a very painful position, causing me to walk very awkwardly," Overholt wrote.
"After a few steps I told him I had a very bad back and hips and would have to sit or lean against something, at which time he lifted my right arm higher and stated that I had no trouble walking forward in the meeting room," the veteran added. "His next words were, 'You are charged with resisting arrest.' [He] got on his radio and called for backup. Another officer pulled up but did not get out of his car."
Roger Coen, a Greene County resident who was also escorted out of the meeting explained what happened to him in an open letter:
The motion was being made to be adjourned and I said that [Greene County Chamber of Commerce board member] Tom Ferguson told me that we were able to ask questions but I was told that Tom Ferguson was not running the meeting. I was then escorted out by the police with my hands behind my back to the hallway. Tom Ferguson followed us out and grabbed my hand and said he was sorry that this was a private meeting but the public was invited. He also said he was sorry, that he did tell me we were allowed to ask questions. Then the cop took me outside and made me leave the property so I had to stand on the sidewalk in the rain to wait on my wife while two police officers stood under the roof on the porch watching me.
Deborah Fisher, who works with the Tennessee Coalition for Open Government, told Save the Nolichucky that there is no right to public comment at public meetings, but that the board should have made accommodations for all attendees to hear the proceedings. She urged county residents to file an open meetings complaint with the state.
The Tennessee Open Records Counsel received 42 complaints about the meeting by Monday, WJHL reported.
Greeneville City Administrator Todd Smith sent the Sun an emailed statement on the incident. "At the arraignment this morning, the judge decided to continue the hearing against Mr. Overholt until Sept. 22. Mr. Overholt is charged with interfering with a public hearing and resisting arrest," Smith wrote. "Since this is an ongoing criminal hearing, we have no additional comments at this time."
The Greene County Industrial Development Board voted at the Friday meeting to resubmit a permit application requesting the Tennessee Department Of Transportation to allow the board to place a double-pipeline along state and county right-of-ways from the area of the US Nitrogen plant at Midway to the Nolichucky River, the Sun reported.