Pyongyang releases 85-yo US Korean War vet after 'confession of crimes'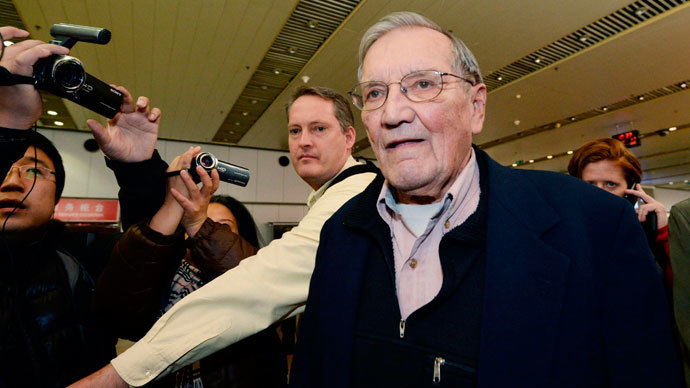 North Korea has deported an 85-year-old former Korean War veteran from the United States who was detained in October during a 10-day private visit to the country. The release came after Pyongyang published a written "apology" for his "war crimes."
Merrill Newman, who served as a military adviser helping pro-South Korea guerillas during the 1950-53 war, was deported due to humanitarian considerations, North's Korean Central News Agency (KCNA) reported Saturday. The report cited the veteran's "sincere repentance," his age and health condition.
The American was sent to China, the destination he had intended to travel to next, when North Korean authorities detained him October 26.
"I'm very glad to be on my way home," Newman told Japanese media on his arrival at the Beijing airport. "I feel good, I feel good. I want to go home to see my wife."
Washington welcomed the news of Newman's release. "We are pleased that Mr. Merrill Newman has been allowed to depart the DPRK and rejoin his family. We welcome the DPRK's decision to release him," State Department deputy spokeswoman Marie Harf said in a statement.
The official used the occasion to reiterate the US's call for Pyongyang to release another American, Kenneth Bae, who was arrested a year ago and sentenced to 15 years on charges of planning to topple the North Korean government.
"We call on the DPRK once again to pardon and grant Mr. Bae special amnesty and immediately release him as a humanitarian gesture so that he too can return home to his family," Harf said.
Pyongyang set Newman free just hours before US Vice President Joe Biden, who is visiting South Korea as part of his trip to Asia, was scheduled to visit the demilitarized zone separating the two Koreas.
Biden praised Pyongyang's decision, adding that he didn't have a direct role in Newman's release. He also said he had offered Newman a ride home on Air Force Two, but the veteran declined the offer because there was a commercial flight from Beijing to San Francisco within a few hours.
Newman's release comes a week after North Korea published a written apology, purportedly written by him, saying that he confessed to "masterminding espionage" and "was involved in killings of service personnel of the Korean People's Army and innocent civilians" during the war. Newman was also shown in a filmed video "apology" for his "crimes."
During his 10-day trip to North Korea, Newman had intended to meet with surviving soldiers from the war and pray for the dead, his family said.
North Korea has detained at least six US citizens since 2009. Two of them were journalists, who were arrested for trespassing. They were later released after a visit to Pyongyang by former US President Bill Clinton.
Others, including Bae, were Christian missionaries. The Pyongyang government views all Christians with suspicion, apparently linking them with the many Protestant Christian organizations in South Korea who are among the most vocal critics of the North's regime.
You can share this story on social media: