Ohio village threatens Iraq war vet over therapy ducks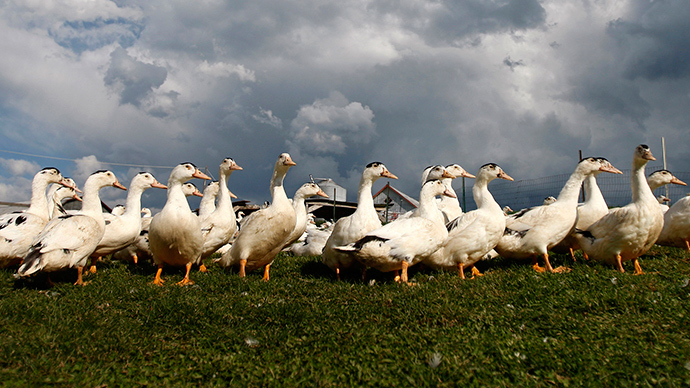 An Iraq war veteran who purchased ducks for physical and mental therapeutic purposes is now facing a citation and a hearing over the birds, as the village of West Lafayette, Ohio prohibits ownership of farm animals.
Darin Welker was cited on June 23 with a minor misdemeanor and will appear at a hearing before Coshocton (County) Municipal Court on Wednesday for violating the village ordinance.
Welker purchased the 14 ducks to deal with a back injury and post-traumatic stress disorder that he says comes from his service in Iraq, where he was wounded in 2005 as a member of the Army National Guard.
"I came back (from Iraq) with a major back injury, and between the back injury and the (post-traumatic stress disorder) that I also brought home, there were numerous problems," Welker told the Marion Star.
In 2012, the US Department of Veteran Affairs (VA) paid for surgery on Welker's back, but did not follow through with payment for physical therapy recommended by his surgeon, nor did it pay for mental therapy, Welker said.
Welker bought the ducks in March just after he had heard of their use for therapeutic purposes. He says caring for them and observing their interactions has helped him cope.
"Taking care of them is both mental and physical therapy," he said. "(Watching them) keeps you entertained for hours at a time."
Welker said the Mental Health Department of the VA has officially recommended he keep the ducks.
Coshocton City Council adopted the West Lafayette farm-animal ordinance in 2010. The law states no "chickens, turkeys, ducks, live poultry or fowl of any kind, horses, ponies, cows, calves, goats, sheep, or live animals of any kind except dogs, cats, gerbils, hamsters, guinea pigs, birds or mice shall be kept in the Village. No person shall keep or harbor rabbits which cause inconvenience or annoyance to persons of ordinary sensibilities by smell, unsightly housing, or trespass, or which cause damage to the property of others."
The most one can be fined for a minor misdemeanor in Ohio is $150.
The village's mayor, Jack Patterson, and police chief, Terry Mardis, have yet to comment on the matter.
The Coshocton City Council did revise part of the animal law last year when one resident, Mary Smith, said she had obtained a pot-bellied pig for therapeutic purposes on the advice from her doctor. Smith says her pig has helped her scoliosis and her wheelchair-bound daughter's spina bifida.
The law now allows for one pot-bellied pig per household as long as it is registered within 30 days of ownership, and a doctor must verify the pig's therapeutic value.