Bowe Bergdahl says Obama saved his life
Published time: 16 Jul, 2014 20:56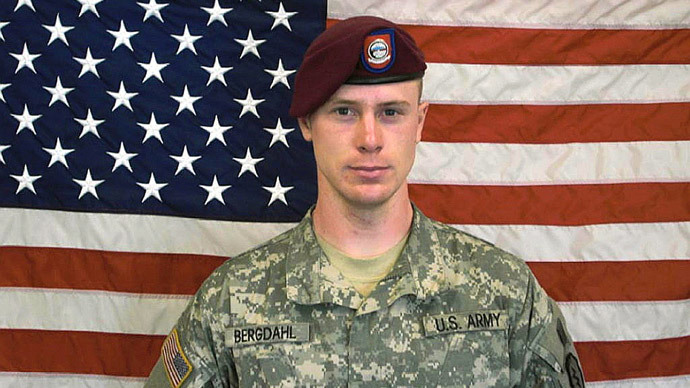 Bowe Bergdahl, the United States soldier who spent five years in the custody of the Taliban before being exchanged in May for America-held prisoners, wants the president to know he appreciates all the White House has done to help his case.
Sgt. Bergdahl has retained a new lawyer as the US Army ramps up its investigation into the soldier's 2009 disappearance in Afghanistan, and on Wednesday that attorney told the Los Angeles Times during an interview that his client wants to express his thanks to the commander-in-chief.
"He is deeply grateful to President Obama for having saved his life" the new lead counsel, Eugene Fidell, told the Times, "by doing whatever had to be done."
According to The Daily Beast, Bergdahl personally authorized his attorney to relay that message to the media on his behalf.
Fidell declined to speak specifically as to the health or state of mind of client, the Daily Beast reported, but did acknowledge that Bergdahl is again living with other soldiers after returning to active duty this week at Joint Base San Antonio-Fort Sam Houston.
"The Army, which has done much more poking and prodding with him over a much larger period of time, concluded he was in a position where he could be put in duty status and that's where they have him as of Monday," Fidell said. "My understanding is he is in quarters appropriate to his pay grade along with other personnel in full duty status."
"He's just another soldier in the US Army," Don Manuszewski, an Army spokesperson, told a local ABC News affiliate this week.
Bergdahl, 28, was freed from Taliban custody in May after being detained by the group for five years following the solder's disappearance from an Afghan base in 2009.
After US Pres. Barack Obama authorized the release of five detainees being held at the US military's Guantanamo Bay detention facility in exchange for Bergdahl, former servicemen claimed the soldier willingly deserted the Army before being caught by the Taliban. That walk-off, some troops have said, directly led to the deaths of several American soldiers tasked with rescuing Bergdahl during the last half-decade.
"He deserted," fellow soldier Nathan Bradley Bethea told The Daily Beast recently. "I've talked to members of Bergdahl's platoon — including the last Americans to see him before his capture. I've reviewed the relevant documents. That's what happened."
Additionally, the release of five Gitmo prisoners considered to be high-ranking members of the Taliban has further outraged many who have questioned not just Bergdahl's behavior, but the White House's under-the-table detainee exchange. The Pentagon is now investigating the precise details surrounding Bergdahl's disappearance, prompting him to retain legal representation.
"I think it's important that people, particularly people who have been vilified, have proper representation, and every lawyer has a responsibility to represent even unpopular clients and that's why I'm involved in this," Fidell, a military justice professor at Yale Law School, told ABC News this week.
"The American people have a pretty good sense of fellow feeling and sympathy. It's no secret that Sgt. Bergdahl went through an astounding and terrifying ordeal … people are fascinated whether they're sympathetic or in the vilification business," Fidell added to the Times.
Meanwhile, the Wall Street Journal reported earlier this week that Sgt. Bergdahl has not spoken to his family since freed from the Taliban earlier this year. Pentagon officials, who spoke anonymously, told the paper they did not know the cause of the tension.