'World's first' recreational marijuana ad takes on prohibition policies (VIDEO)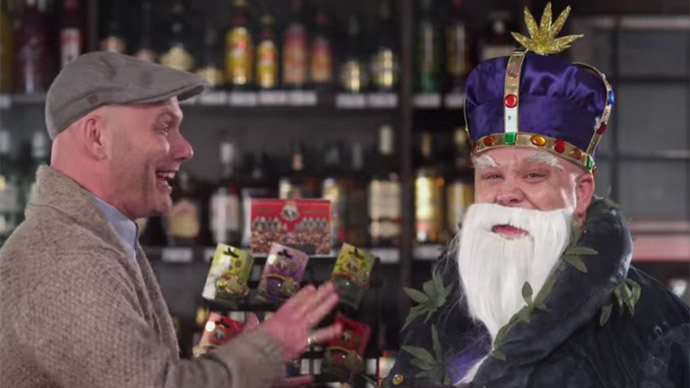 Crop King Seeds, a breeder of marijuana in Canada, has released what the company calls "the world's first" recreational pot commercial. Cue the uncontrollable laughter.
The Vancouver company has posted the part advertisement, part pro-marijuana public service message on YouTube, but has yet to air the spot.
"We wanted something that not just advertise [sic] our company but also something that promotes a healthier alternative to alcohol and tobacco," Crop King Seeds said in a statement. "We want to break the stigma that marijuana has earned from years of media brainwash and manipulation."
The ad criticizes official discrimination against cannabis while mocking the protected position afforded to alcoholic beverages.
"We only stock the liquid alternative," says a store owner in the ad. "You know, the kind that leads to violence, social problems, the occasional gruesome death."
Though Crop King Seeds claims it has released the "world's first marijuana commercial," there were previous ads for medical marijuana.
The tone of Crop King Seeds' ad, though, is a far cry from some of the first marijuana advertisement for medical cannabis. A 2010 spot by CannaCare aimed to change public perceptions of marijuana users from the stoner stereotype to a more dignified consumer looking to ease physical pain or effects of an illness.
A similarly subdued tone was used in a 2009 medical marijuana ad aired in Illinois. "I am sick. Cannabis helps me to survive," says the subject of an ad from the Marijuana Policy Project.
Other early medical marijuana ads attempted to offer an alternative to the pharmaceutical industry for pain relief. Denver's Cannacopia, billed as a medical marijuana operation, aired its pitch in 2010.
In the US, only the states of Colorado and Washington have passed laws legalizing the cultivation, sale, and use of recreational marijuana even though federal officials still consider pot to be a Schedule 1 narcotic.
Colorado shops officially began selling on January 1, and marijuana dispensaries in Washington state opened last week, as reported previously by RT.
A ballot initiative to legalize pot in Oregon is likely to go before voters in November.
Meanwhile, many states are pushing efforts to decriminalize low-level marijuana offenses. Most recently, Maryland and Washington, DC passed measures to reduce punishment for marijuana possession, though the District of Columbia's bill is tied up in Congress given the city's operations must still receive final approval from federal lawmakers.
Nearly half of states in the US currently has provisions in place allowing for medicinal marijuana to be lawfully dispensed.
In Berkeley, California, the city council is on the eve of approving a plan to require dispensaries to offer some free medical marijuana to patients with low incomes, reminiscent of subsidized health care such as Medicaid.