Swastika flown over New York beaches infuriates residents (VIDEO)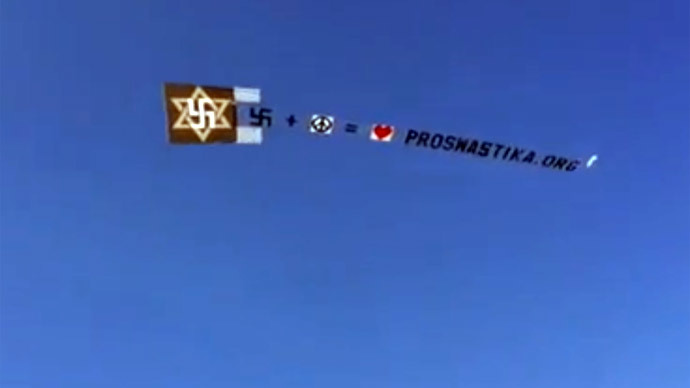 A banner featuring a swastika laid over a Star of David was flown over New York's Coney Island and Long Island beaches on Saturday by a group seeking to reclaim the image as one of peace rather than meanings associated with Nazi Germany.
The banner fly was part of the International Raelian Movement's "International Swastika Rehabilitation Week," which ran from July 5 to July 12, according to Proswastika.org.
"The swastika symbol is one of the oldest symbols on the Earth and can be found in all religions and traditions, on all continents!" the site says.
Yet the banner riled some residents of the targeted areas, according to 1010 WINS in New York.
"How they got clearance to fly this plane. Was there any kind of pre-screening, pre-clearance of what was going to be flown over," said New York City Councilman Mark Treyger, who represents Coney Island.
Treyger said no matter their intentions, the swastika is an offensive symbol.
"I will not accept their twisted logic. And I am also going to speak out against sending chilling messages of fear and intimidation to residents," he said.
Long before its adoption by the Nazi Party of Germany, the swastika - the word means "well-being" - was used by civilizations the world over as a sign of good luck. Hinduism and other traditional Eastern religions are especially associated with use of the symbol.
The International Raelian Movement's Thomas Kaenzig told the Wall Street Journal the group is not anti-Semitic and hopes it can provide information to change perceptions of the swastika.
"We're here to educate people, not offend people," Kaenzig said.
The Las Vegas-based Raelians believe extraterrestrials known as Elohim created humans thousands of years ago. The movement touts world peace and nonviolence.
You can share this story on social media: