22 people trapped on 'Ninja Ride' roller coaster after tree falls on tracks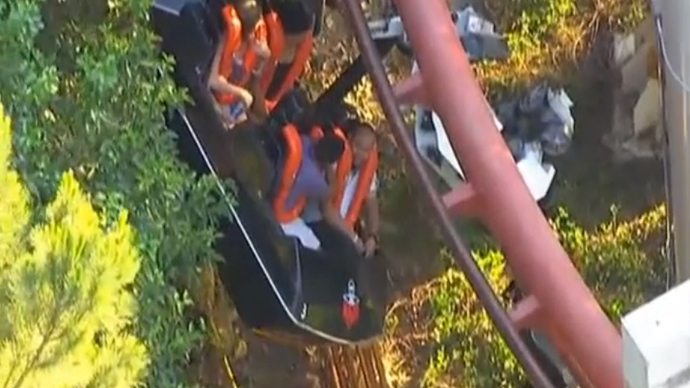 Four people were injured when a roller coaster hit a branch at an LA amusement park. Twenty-two petrified passengers spent nearly three hours suspended between 6 and 9 meters in the air before they were rescued.
The accident happened at 5:30pm (22:30 GMT) on Monday at the Ninja Ride roller coaster at Six Flags Magic Mountain amusement park, about 25 miles (40km) north of Los Angeles.
One of the cars was derailed after a tree branch that fell on the track and obstructed the train, according to the statement from Sue Carpenter, a Six Flags Magic Mountain park spokeswoman.
"It looked like a pine tree fell and it fell across the track of the Ninja ride," said LA County Fire Inspector Rick Flores. "The car came around the corner and it hit the tree."
The first car was derailed, said Flores, adding that the passengers in that car were the ones who injured.
"We were riding on the Jet Stream when we saw the Ninja go into the trees," a witness Brandy Chambers told KTLA news agency. "It was a lot of leaf noise and then cracking noises … and a lot of screaming."
The video released on the internet depicts firefighters in harnesses removing the riders from coaster cars. The thrill-seekers wait patiently as rescuers try to reach them through a tangle of track and trees. Some of the passengers are talking to each other, while others keep their eyes closed.
Other footage shows a derailed car with people who are slightly moving in the vehicle.
In the meantime, two of the four injured riders were taken to a local hospital, while the other two sustained minor injuries, fire and park officials said.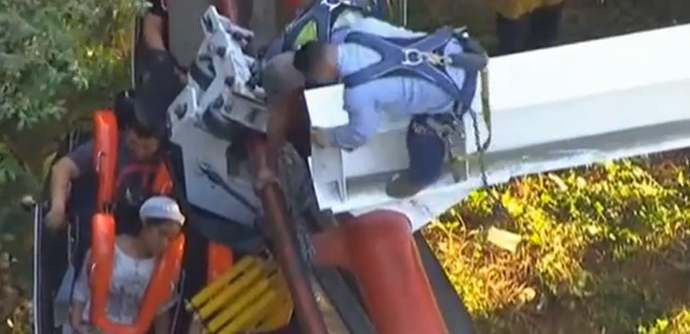 "We were going across one turn and all of a sudden a loud noise happened," Jeremy Ead, one of the injured, told KCAL-TV.
"I ducked down just in time. A hard branch hit me in the head. I was there bleeding from my head, which was a little worse than this," he said, pointing to a gash on his forehead.
The ride will be shut down while the accident is investigated, added Carpenter.