Obama library toilet parade float triggers backlash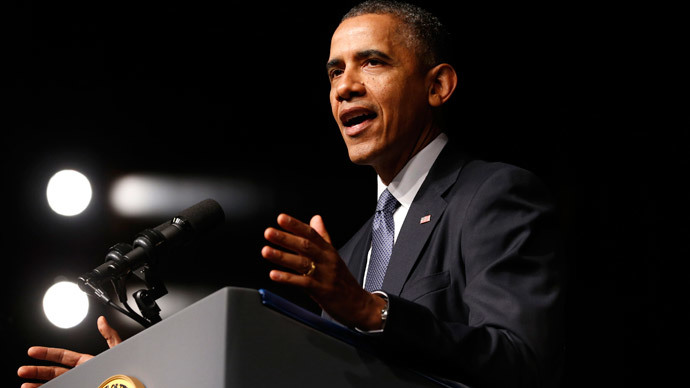 A Fourth of July parade in Norfolk, Nebraska, is drawing harsh criticism after the event featured a float depicting President Obama's future presidential library, one of the hallmarks in commemorating the commander-in-chief's legacy, as an outhouse.
Hitched to the back of a blue pickup truck, the float featured an outhouse with the words "Obama Presidential Library" nailed into the sides. On top were four small American flags, while the front of the outhouse sported a dummy wearing overalls with its hands placed against its head. Thanks to the greenish skin of the figure and dark, almost purple-like circles around the dummy's eyes, it looked much more like a zombie than anything else.
The float was easily the most politically charged exhibit on display during the parade, reportedly winning laughs and applause as it rolled past onlookers. Despite receiving an honorable mention award from some of the float judges, not all residents were amused. Some criticized the float – whose sponsor was unreported and remains unknown – as inappropriate for an event celebrating America's history and said its depiction went beyond politics and into racist territory.
Obama float at Nebraska parade sparks controversy http://t.co/hMr2sIBT9npic.twitter.com/DMIK0Gynak

— The Gazette (@csgazette) July 6, 2014
"I'm ashamed, I'm appalled," said Norfolk resident Glory Kathurima to the Lincoln Journal Star. "You see people laughing and pointing at it, smiling, looking positive about it. I immediately felt sick to my stomach...I knew what that meant, and I knew there was no sort of political statement being made by an image like that."
Kathurima had moved to Nebraska from Kenya, but said that explaining the float to her young daughter proved difficult.
"My daughter keeps asking me, 'Why?' and I don't have an answer for her," she said. "We made this place our home, but right now it doesn't feel like it. It's shameful."
According to the Omaha World-Herald, "several" other residents have also penned letters to the newspaper expressing similar views. Meanwhile, the Nebraska Democratic Party issued a statement claiming the float disrespected the office of the presidency.
"We have seen many times when Nebraskans disapproved of the President, but this clearly crosses the line," state party executive director Dan Marvin said, as quoted by the Huffington Post. "There is a level of respect for the office of the Presidency which should not be crossed. It's beyond disappointing the City of Norfolk, it's officials, and citizens would allow such a thing."
Although Norfolk City Councilman Dick Pfeil assured people that the city itself "doesn't condone" the float's subject matter, parade organizer Rick Konopasek likened it to a political cartoon and dismissed allegations that it was offensive.
"We don't feel its right to tell someone what they can and can't express," he told the Journal-Star. "This was political satire. If we start saying no to certain floats, we might as well not have a parade at all."
Despite the outrage this float provoked for being used in an Independence Day parade, this isn't the first time President Obama's future library has been portrayed as an outhouse. The idea has become a running joke in conservative circles, and just last year a New Mexico man sparked similar concern when he planted the same sign above an outhouse at a popular rest stop.
Even before that, Montana state Republicans featured the same kind of exhibit – complete with fake bullet holes – at a 2012 political convention.