Two teens left in holding cell without food, toilet paper over the weekend
Published time: 26 Jun, 2014 23:42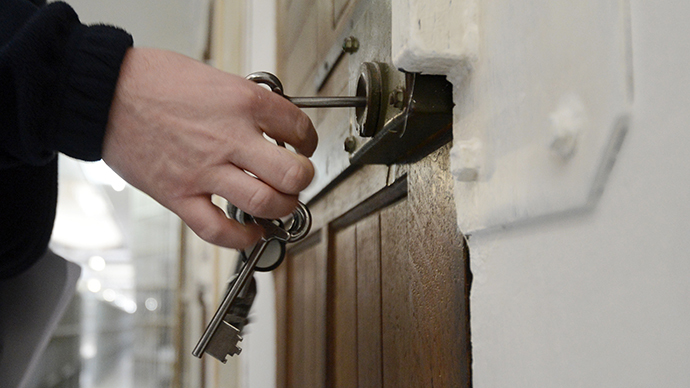 Serious questions have been raised after two teenagers were left unattended in a courthouse holding cell in Douglas County, Georgia over the weekend. The teens were left with no food or even toilet paper.
The teens, ages 16 and 17, appeared before a judge Friday afternoon, one for a probation violation and the other on a vehicle theft charge, according to the Atlanta Journal-Constitution. Neither suspect's parents showed up for court, so the two were supposed to be transported back to the Marietta Youth Detention Center, Douglas County Sheriff Phil Miller said during a press conference.
But somehow, that transport never happened.
Instead, the two teenagers were left alone for nearly three days in the courthouse. Their holding cell contained only benches and a window on the door facing the building's basement. There was a bathroom, allowing the teens access to water, but there was no toilet paper.
"As a law enforcement agency that taps itself as a professional agency, I'm as embarrassed today as I can possibly be," Miller said.
Deputies left for the weekend without noticing the teens.
"Nobody that works in security is supposed to leave that building at night without checking the cells, and it's not a hard job to do," Miller added.
The cells have a color-coded light system that alerts deputies when a cell is locked and someone is inside. Security officers should have noticed the red lights on the teenagers' cell.
"We, not following our policy, allowed this to happen and we're wrong," said Miller. "We're going to do everything in my power to correct it."
Deputies discovered the two hungry teens when they returned to work on Monday. They were immediately fed and attended to, Miller said.
The sheriff's department is investigating eight to 10 officers involved in the incident, and Miller said that some may lose their jobs, based on the results of the internal investigation.
The Douglas County Board of Commissioners is also investigating the incident, which it found out about through media reports on Tuesday.
"There are two parts. The first is what actually happened what is the institutional breakdown that occurred that two teen could be isolated over the weekend," Douglas County Commissioner Kelly Robinson told the AJC about his call for an inquiry. "[The second is] the Board of Commissioners was not made aware of this at all."
"What else is being concealed here? That is the check and balance of the Board of Commissioners," he said. "If there is any liability through an action I need to be made aware of this."
Miller told the AJC that it is not his office's responsibility to contact the board, and that his internal investigation should be enough.
The sheriff said that the situation could have been much worse if either of the teens had a medical condition. He also said that their families have been "more reasonable than maybe I would have been" about the situation.