3 inmates hold officer hostage in Ohio jail
Published time: 23 Apr, 2014 23:33
Edited time: 24 Apr, 2014 05:24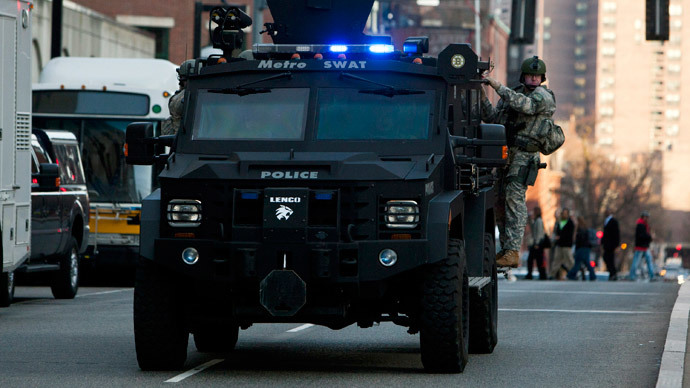 ​Three inmates at the Trumbull County Jail in Warren, Ohio held a correctional officer hostage in a jail cell for some four hours, according to local news reports.
UPDATE: Hostage situation declared over at approximately 9pm EDT. The three suspects were taken into custody and their hostage was unhurt, according to WTVM.
Trumbull County deputies confirmed the hostage situation, which began at approximately 3:30pm EDT, but did not offer any details, according to WOIO-TV.
The inmates were identified David Martin, Richard Ware, and Kevin Johns, according to reports.
Trumbull County Sheriff's Office Major Thomas Stewart said they had cornered Officer Joe Lynn in a holding area. The inmates have covered the door of the room with sheets and tied them to the table so that should anyone try to enter, the sheets tighten, WKBN-TV reported.
Trumbull County Sheriff Thomas Altiere told WFMJ-TV that the inmates tackled and handcuffed the officer on the third floor of the jail.
— NewsBreaker (@NewsBreaker) April 23, 2014
A hostage negotiator with the Ohio State Patrol is trying to resolve the situation, according to WOIO. The FBI, Ohio State Patrol, SWAT, and Youngstown Police are also assisting.
Martin, from the Cleveland area, is facing a murder charge. Johns was recently convicted on rape and kidnapping charges. Ware is in jail on aggravated robbery charges. His pre-trial is set to begin on May 20, according to WKBN.
Some jail employees were evacuated from the facility, WKBN reported.
Martin called WOIO-TV and told a reporter that he had "nothing to lose" and wanted "his story told" according to the New York Daily News, although that information could not be immediately verified.
DETAILS TO FOLLOW