7.9 earthquake hits off Alaska's Aleutian Islands, triggers tsunami warning
Published time: 24 Jun, 2014 09:19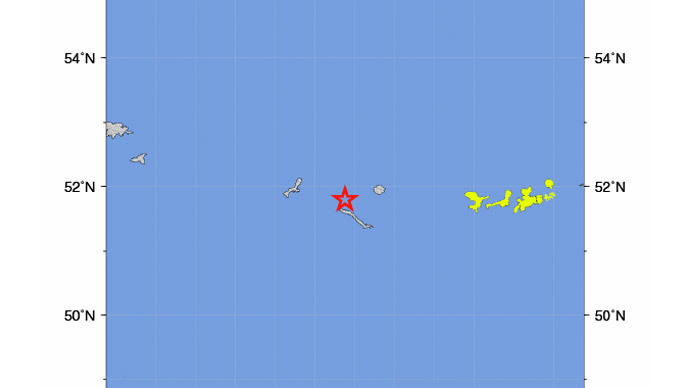 A magnitude-7.9 earthquake struck near Alaska's Aleutian Islands, triggering a small tsunami and shaking felt over a wide area, the National Tsunami Warning Center said.
Read More: Freak anomaly: Low-seismic Alaska area shaken by mysterious series of quakes
The earthquake struck at 12:53 pm Alaska Daylight Time on Monday near Little Sitkin Island in the far western part of the Aleutian Island chain, just west of the International Date Line.
The US Geological Survey said the main jolt was followed by a series of aftershocks - 21 in total over a four-hour period. Two significant aftershocks, measuring magnitude 6.0 and 5.8, occurred within 37 minutes of the main shock. A powerful 6.9 aftershock was registered 4 hours after the 7.9 tremor rocked the area.
"When you've got an earthquake that big, it rings the Earth like a bell," Mike West, a seismologist who serves as director of the Alaska Earthquake Center, told Reuters.
No reports of damage or injury related to the quake had been received by the Alaska Department of Homeland Security by 5 pm local time on Monday, said department spokesperson Jeremy Zidek.
Following the quake, a tsunami wave of roughly 19 centimeters (7.5 inches) was measured at Amchitka Island, in the Aleutian Islands chain, said National Tsunami Warning Center oceanographer Bo Bahng. Smaller waves were recorded at other islands, he added.
The tsunami warning, initially issued for a wide area, prompted the evacuation of about 200 residents of the town of Adak to higher ground, city manager Layton Lockett told Reuters.
Lockett said he and his staff were in their offices when the earthquake struck.
"Oh, we felt it," he said. "We felt it in length, in duration and in intensity. We were sitting there for about 20 seconds, then we went outside and it kept going and going and going."
The Aleutians, a chain of 14 large volcanic islands and 57 smaller ones, extends some 1,200 miles across the northern Pacific Ocean between the Alaska mainland and eastern Russia. The epicenter of Monday's earthquake was in fact closer to Russia than it was to Anchorage, Alaska's capital city.