​Ohio becomes first state to reverse energy efficiency, renewable fuel mandates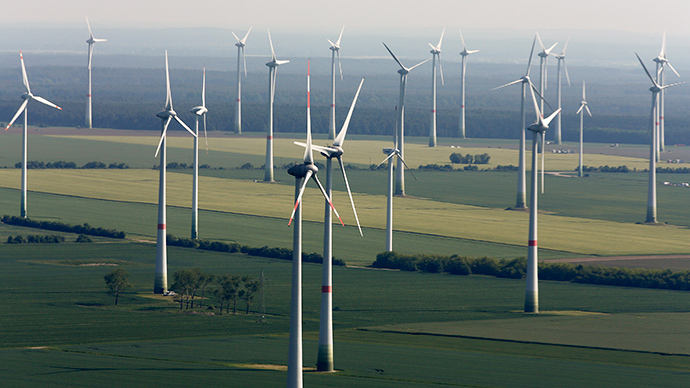 Ohio Gov. John Kasich signed into law on Friday groundbreaking legislation that will freeze state rules on energy efficiency and renewable fuel standards that require electric utilities to sell more wind- and solar-generated power.
Senate Bill 310 – passed by Republican majorities in the state Legislature and pushed by the state's top industries – pauses annually-increasing energy mandates at 2014 levels until the year 2017. At that point, the automatic levels are to be restored – a provision that Kasich requested be part of the legislation, according to the Cleveland Plain Dealer.
The bill also requires a legislative study panel to recommend whether the Legislature should permanently halt or amend the standards passed unanimously in 2008.
The measure makes Ohio the first state to reverse energy efficiency rules and renewable energy requirements. Earlier this year, Indiana passed a law ending the state's energy efficiency guidelines.
Gov. Kasich did not comment upon signing the bill, but his press secretary has called the legislation a "balanced way to support renewable energy while helping Ohio's economic recovery."
"Ohio needs more renewable and alternative energy sources and it needs a strong system to support them as they get started," press secretary Rob Nichols said in a statement. "It's naive, however, to think that government could create that system perfectly the first time and never have to check back to see if everything's OK."
The 2008 law that established the standard demanded that electric utilities use more efficient power sources in reducing customer electricity use each year through 2024.
Then by 2025, utilities had to show they cut power consumption of their customers by 22 percent, based on 2009 levels. Companies would also have to prove that 12.5 percent of the power they offered came from renewable sources.
The American Council on Renewable Energy has reported that Ohio's 2008 standards have cut electricity rates by 1.4 percent, yielding over $230 million in overall savings. Ohio's clean energy sector has created more than 25,000 jobs, according to researchers at Ohio State University.
Many groups – including those representing consumer, health, environmental, and business interests – ripped the law, saying the 2008 efficiency standards have saved more money than they have cost, while the renewable rules have garnered at least $1 billion in state investment, according to clean energy companies.
"By signing SB 310 into law today, Gov. Kasich sent the clear message that he is stepping away from his platform of a broad energy portfolio. As people of faith it's our moral obligation to care for all of creation," said Sara Ward, director of Ohio Interfaith Power and Light, according to the Plain Dealer. "The short-term thinking of this hypocrisy only serves a few special interests."
Environmental groups criticized the policy shift in the face of increasingly polluted water and airways in Ohio, as well as the imminent impact of climate change.
"This reckless step backward gives Ohioans fewer energy choices, fewer jobs, and dirtier air," said David Scott, board president of the National Sierra Club. "As even Lake Erie shows adverse impacts from climate disruption, as respected scientific bodies warn we must cut carbon pollution now, this is grossly irresponsible."
The American Lung Association said it was "extremely disappointed" by the "negative health effects" the freeze will have on Ohioans. Moms Clean Air Force in Ohio said the legislation will "jeopardize Ohio's clean energy economy and increase consumer rates, but it is a complete dismissal of the children who struggle every day with asthma and other lung diseases."
Major utilities in the state claim the standards were enacted in the middle of a recession, hurting their profits. Top industrial power users, like Timken and Alcoa, supported the bill. FirstEnergy, a major backer of the effort, praised the new law.
"FirstEnergy is pleased that Ohio took a positive step toward reforming the state's costly energy efficiency and renewable energy mandates," the company said in a statement. "Senate Bill 310 will benefit consumers and support job growth in Ohio by holding the line on further bill increases to pay for energy efficiency programs."
Ohio Energy Group, which represents top state industrial interests, said the 2008 law was more about politics than sensible policy to its groups.
"We think it is smart to stop the [annual] increases for a while, so we can take a look and make sure we are really going in the right direction," said David Boehm, an attorney for the organization.
Before the signing the law, Gov. Kasich and his proxies had hailed the state's clean energy initiatives.
"Ohio ranks No. 1 in the nation for renewable and advanced energy, bringing in more renewable energy facilities than any other state," claimed JobsOhio, the governor's privatized economic development agent, according to Dick Munson, director of Midwest Clean Energy with the Environmental Defense Fund.
"Ohio is committed to leading the world to energy independence with advanced energy innovation, groundbreaking manufacturing processes and low-cost deployment of these assets to fulfill current and future demand for alternative energy solutions,"JobsOhio formerly stated.
You can share this story on social media: