Australia, Canada seek center-right alliance to thwart climate change initiatives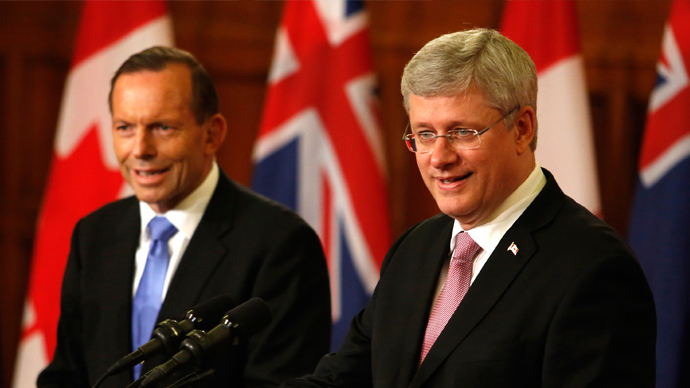 Australian Prime Minister Tony Abbott met with Canadian Prime Minister Stephen Harper on Monday for talks to form a center-right alliance to thwart carbon pricing and other global attempts to mitigate the effects of climate change.
The pair signaled that they want to coalesce "like-minded" countries – the five Commonwealth countries of Australia, Britain, Canada, India, and New Zealand – to oppose efforts such as the Obama administration's press for climate change moves through forums like the G20.
Abbott and Harper say that policies that aim to ease the effects of a warming Earth - such as a carbon tax - are left-liberal schemes to impose higher taxes and further state intervention into the economy.
''We think that climate change is a significant problem, it's not the only or even the most important problem the world faces but it is a significant problem and its important every country should take the action that it thinks is best to address emissions,'' Abbott said from Ottawa, according to The Sydney Morning Herald.
Abbott did applaud the Obama administration's plan to require coal-fired power plants to cut emissions by 30 percent by 2030, since the proposal does not put a price on carbon.
''I am encouraged that President Obama is taking what I would regard as direct action measures to reduce emissions, this is very similar to the action my government proposes in Australia.''
Abbott added that climate change policies must not "clobber the economy" in the process of mitigating what climate experts see as widespread drought, famine, flooding, erratic weather patterns, and large-scale devastation across the globe, not least in Australia.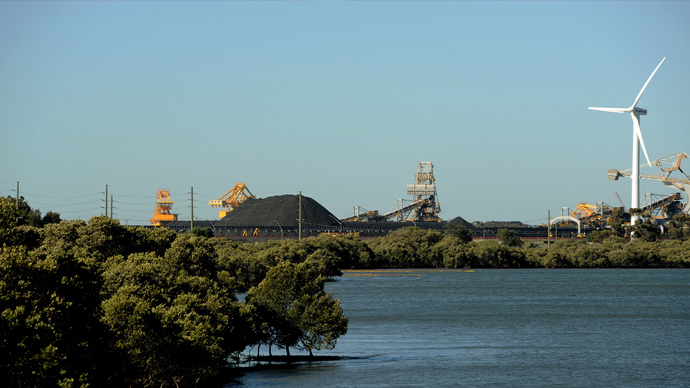 Harper echoed the "pro-business" sentiments.
''It's not that we don't seek to deal with climate change,'' he said. ''We seek to deal with it in a way that enhances our ability to create jobs and growth, this is their position."
''No country is going to take actions that are going to deliberately harm jobs and growth in their country, we are just a bit more frank about that than other countries," Harper added.
Abbott voiced his disdain for any carbon pricing initiatives.
''There is no sign - no sign - that trading schemes are increasingly being adopted,'' he said. ''If anything, trading schemes are being discarded, not adopted."
In the US, the Obama administration's plan amounts to cutting greenhouse gas emissions by a third of 2005 levels by 2030.
The reduction is equal to the emissions from powering more than half the homes in the US for one year. It is aimed "to avoid up to 6,600 premature deaths, up to 150,000 asthma attacks in children, and up to 490,000 missed work or school days, providing up to $93 billion in climate and public health benefits," says the statement from the Environmental Protection Agency, the regulatory body that drew up the plan.
US officials have met opposition from Australian counterparts in pushing climate change as an agenda item during November's G20 summit in Brisbane.
''I'd be surprised if climate change doesn't come up as part of the G20,'' Abbott said, though he added that climate change concerns have their place at the United Nations, not necessarily the economic-focused G20.
Australian opposition leader Bill Shorten accused Abbott and his "flat-Earth views" of being out of touch with the nation and the world.
Climate change is ''not just an environmental issue, it is a security issue and it is absolutely an economic issue," he told Fairfax Media, adding that initiatives towards cleaner air, lower pollution, and newer technologies are also good for the global economy.
Australia is fresh off the hottest 12-month period in recorded history, as the country has experienced brutal heat waves the last two summers. The extreme weather is, in part, attributed to global warming.
"If you want to look for effects of climate change, Australia is the poster child in many respects," said Kevin Trenberth, a climate researcher at the US National Center for Atmospheric Research.
You can share this story on social media: