Aquatic hoverboard goes on sale, takes water sports to whole new level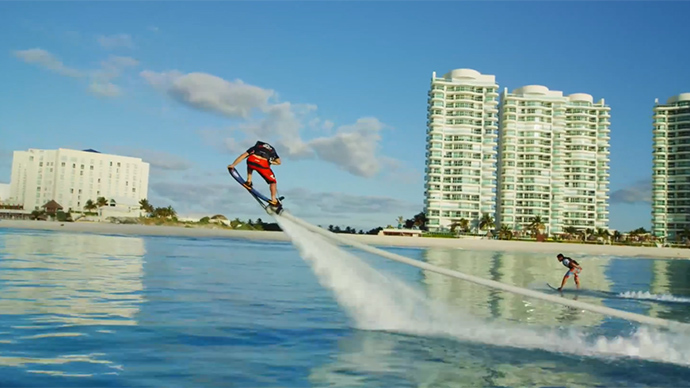 A futuristic new product is hitting the shelves, and it's making Marty McFly jealous. A French personal watercraft racing company unveiled an aquatic hoverboard, propelling riders over waves and through the air at speeds up to 23 miles per hour.
Over a year before Marty McFly hops on a hoverboard in October 2015 during the movie Back to the Future II, Franky Zapata, a French jet-ski champion and creator of the Flyboard, has unveiled a new device designed to take extreme water sports to the next level. The Hoverboard is a cousin of the Flyboard, a 2011 Zapata Racing invention that attaches to a nearby personal watercraft to allow the rider to fly above the water at high speeds, The Verge reported. That device, a small board with two water nozzles that riders stand on, lead to the creation of the Flyboard World Cup.
Zapata's new invention looks like "a cross between flying and surfing and looks a little bit like a wakeboard attached to a large hose," the Daily Mail reported. The 59-foot hose attaches to a personal watercraft (like a speed boat or JetSki), then propels the Hoverboard into the air by a powerful jet of water. The watercraft then follows the rider "giving freedom to surf amongst the waves," the Zapata Racing website said.
The futuristic surfboard can reach speeds of up to 23 miles per hour and heights up to 16 feet above the water. Although the new extreme sport requires someone to drive the watercraft while someone else rides, the company offers an add-on Electronic Management Kit (EMK) that connects to the boat engine and allows the rider to control the craft through a throttle in the user's hand.
"If this is not the way you imagined a hoverboard would work, that's OK. It might be time to accept that the future may be better than we first imagined it," CNET reported.
Zapata Racing is featuring YouTube sensation Devin Supertramp and his "adrenaline-seeking daredevil friends" test-riding the Hoverboard in Mexico to promote the new product.
Real-Life Hoverboard http://t.co/6zWrsk0J4Lpic.twitter.com/r1soxzvtn4

— Devour (@devour) June 12, 2014
The Hoverboard can be used in a lake or on open water, as long as the water body is at least 13 feet deep. Zapata Racing requires at least one hour of professional training on the board's controls and to ensure safety. Although there is no weight limit for the futuristic ride, the company warns that riders over 242 pounds "might not have an optimal experience."
It will go on sale later in June for $5,850, but Flyboard owners can purchase a conversion kit for $2,675. The flying surfboard can be pre-ordered through Rocky Mountain Flyboard now.
You can share this story on social media: