Russian kite surfers make record books after crossing Bering Strait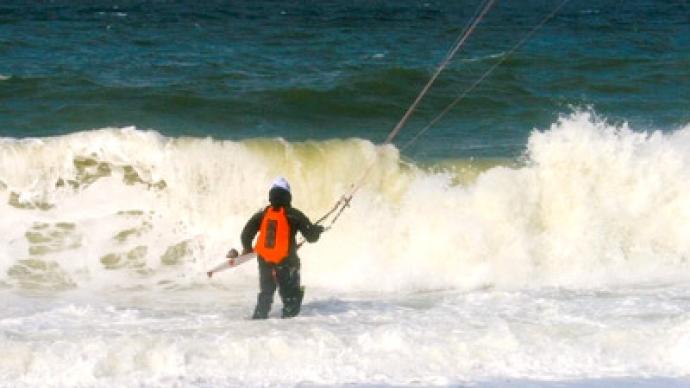 After dealing with bitter cold and dodging killer whales, two kite surfers have entered the Russian Guinness Book of Records as the first people ever to surf from Russia to Alaska across the Bering Strait.
­Safely back on dry land and after almost three years of planning, Konstantin Aksyonov and Evgeny Novozheev have finally achieved their dream of trying to kite surf across one of the most inhospitable stretches of water on the planet – the Bering Strait.The duo was back in Moscow to tell the press about their adventures, while they soon hope to enter the Guinness Book of Records as the first kite surfers to complete this amazing feat. "We really wanted to get our names in the record books, and thankfully we managed to cross the Bering Strait. It was also a personal goal for me, as to achieve such a feat really is something special," Konstantin Aksyonov said.Konstantin and Evgeny started their quest from the Eastern most tip of Russia, in the sparsely populated region of Chukotka and they would cover a distance of 96 kilometers to Alaska and the United States of America.The pair had been planning their route for months, trying to study the various wind patterns and currents they would encounter along their route.However, when they finally got underway, they were hit by a major problem, as they would have to cross the strait without a support vessel as the waters were too choppy for the boat to be able to set sail."Evgeny had a satellite phone with him, with the number of the local coast guard. This is the only thing we had. To be honest I get goosebumps thinking about what we did and I wouldn't recommend anyone to cross the straights without a support boat. We had a goal – and thankfully we managed to achieve it," Aksyonov explained.The duo would encounter many unexpected encounters along their proposed 96-kilometer journey. The water temperature was just one degree above freezing, but that was to prove the least of their worries."We knew there were killer whales in the sea, and we were constantly on the lookout for them. There were [other] whales as well and I actually had an interesting encounter with one. I was surfing along, and about seven meters in front of me a saw a whale. I thought about trying to jump over it, but there was not enough time. In the end, I surfed straight over him – I hope he didn't get hurt in the process," Evgeny Novozheev said.After almost seven hours on the water, and their lives still intact, Evgeny and Konstantin would finally reach Alaska, completing one of the greatest challenges of their life in crossing the Bering Strait.