Memphis cop arrested for trying to rob Make-A-Wish family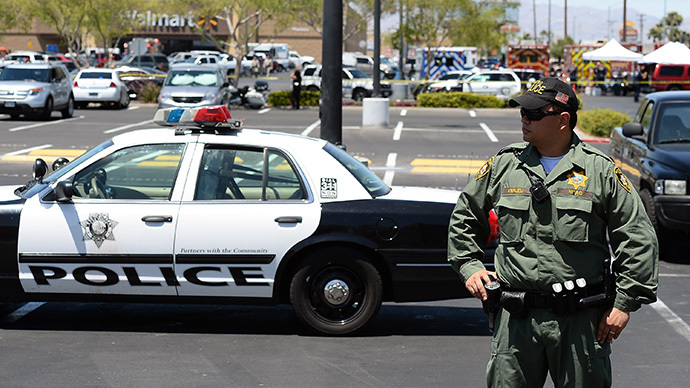 An off-duty Memphis police officer has been charged in connection with a bizarre assault and attempted robbery involving an attack on the family of a Make-A-Wish recipient and fleeing through a crowded Tennessee airport.
Officials from the Make-A-Wish Foundation, a non-profit organization dedicated to giving children with terminal illnesses a chance to live out their dream, were on hand at Memphis International Airport this week to drop off a $1,500 credit card to a family preparing to go on a final trip. Memphis police say that Officer Ronald Harris somehow became aware of the drop-off and tried to rob the family before they left.
Harris, who was off duty and out of uniform at the time, allegedly head-butted family member Nathan Moore and tried to wrestle away the credit card and a bag filled with t-shirts. Airport surveillance video shows Harris running through the security area attempting to evade police before they ultimately wrestle him to the ground and place him under arrest.
"There are people who make bad decisions sometimes and unfortunately we don't, we don't know his story and we don't know anything about him," Miranda Harbor, a spokesman for the Mid-South region of Make-A-Wish, said in a press conference on Monday.
The Moore family were not the ones taken aback, with Harris' neighbors telling local media outlets that he has always been a responsible member of the community.
"He's a super nice guy. He'd do anything for anybody," Marsha Turner told WPTV. "He was so kind I couldn't imagine anyone saying anything bad about Ronnie."
Harris appeared in court on Monday, when he was charged with robbery, aggravated assault, and escape from felony incarceration. His bond was set at $25,000.
Memphis police officials announced at the hearing that Harris, 34, has a history of disciplinary problems and was already on leave because of psychological issues. Other officers complained on multiple occasions that Harris did not answer their radio calls. He was also investigated for abusing the department's sick leave procedures, and was suspended last year for insubordination. His wife told My Fox Philly that Harris is delusional and has been undergoing treatment.
Memphis police department director Toney Armstrong said he was disappointed to learn that an officer had been charged, although Make-A-Wish has sought to keep the focus on the family affected.
"It is certainly a shocking and devastating thing that happened but our primary focus is that this is not the overarching memory for this Wish family and, for their experience, we want them to have the trip of a lifetime and be able to focus on that," Harbor said.