First commercial drone license granted to oil giant BP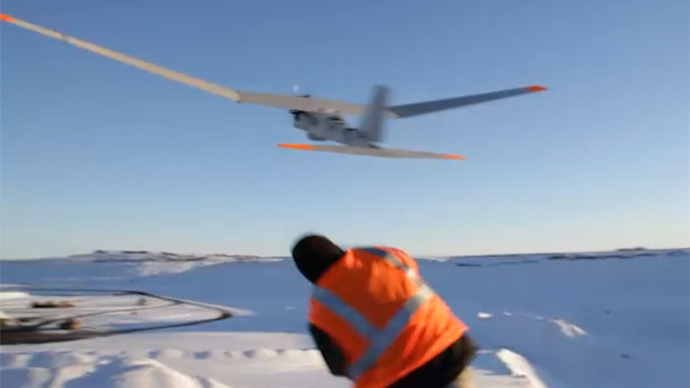 The US Federal Aviation Administration (FAA) announced Tuesday that it has approved a license for commercial drone flights over land for the first time, with BP energy corporation and drone developer Aero Vironment receiving the green light.
Countless businesses and private Americans have lobbied the FAA to grant permission for commercial unmanned aerial vehicle (UAV) flights, with the agency coming under harsh scrutiny for the perception that effective regulation was coming along too slowly.
The criticism seems to have had an effect, though, with the FAA suddenly starting to work with a number of other governmental departments to begin the operation of drone test sites throughout the US. It has also reduced the number of cease-and-desist letters sent to private hobbyists and, as of Tuesday, authorized flights over the BP Prudhoe Bay oil field on the North Slope of Alaska.
"These surveys on Alaska's North Slope are another important step toward broader commercial use of unmanned aircraft," Department of Transportation secretary Anthony Foxx announced in a statement on Tuesday. "The technology is quickly changing, and the opportunities are growing."
The announcement has already been portrayed as a cautious step for the FAA, which pundits say could still be a long time away from authorizing a drone flight over a congested area like New York City, for instance. An agency memo makes it clear that Tuesday's announcement also comes as part of a plan to authorize drone activity over fields, and potentially the Arctic.
"Members of the FAA Arctic Team have begun and will expand the process of working with relevant federal agencies and international communities by seeking their input on this implementation plan," the agency explained.
Both AeroVironment and BP will deploy the Puma AE aircraft, a 4 1/2 foot UAV that has a wingspan of nine feet and a battery life of up to 3.5 hours. The FAA approved the same aircraft for surveys of Arctic waters, with aerial photography equipment that can be used for 3D mapping purposes, AeroVironment's website explained.
The BP drone, in particular, will scan the region's roadways, pipelines, and oil filtration equipment after Alaska state officials confirmed last month that BP was responsible for an apparent pipeline rupture that unleashed an oily mist over 33 acres of frozen snow directly surrounding the oil well. Prudhoe Bay, as with elsewhere on the North Slope, is home to a vast array of wildlife, including migratory birds and caribou.
The FAA announced last month that it is considering whether or not to give Hollywood film studios and other photography companies permission to use drones when filming.
Regulation officials, while admitting that the idea is a possibility, said the agency is "working aggressively to ensure the safe integration of unmanned aircraft systems into the national airspace."
You can share this story on social media: