Texas Republicans back 'ex-gay therapy' in party platform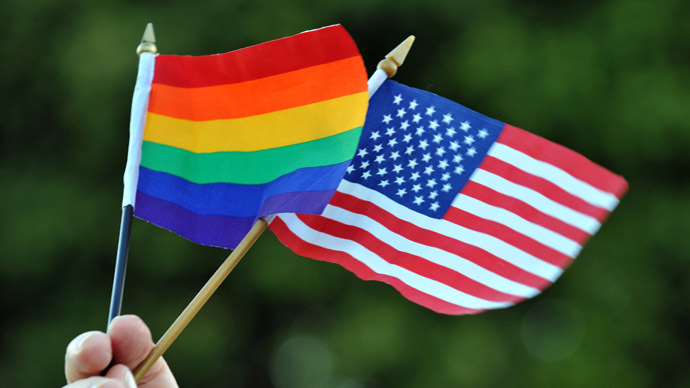 A draft of the Texas Republican Party's platform endorses so-called gay conversion therapy, which seeks to turn homosexuals straight. The platform is viewed as a challenge to laws in California and New Jersey banning "reparative therapy" on minors.
Under the new proposal, the Texas GOP will "recognize the legitimacy and efficacy of counseling, which offers reparative therapy and treatment for those patients seeking healing and wholeness from their homosexual lifestyle."
The platform further supports "the enforcement of the State and Federal Defense of Marriage Act (DOMA)," a United States federal law that allows states to refuse to recognize same-sex marriages granted under the laws of other states. The Supreme Court, however, ruled last year that DOMA is unconstitutional.
Efforts to include the new anti-gay language survived a key vote late Thursday in Fort Worth at the Texas Republican Convention.
The therapy language was included at the request of Cathie Adams of Dallas, leader of the influential Tea Party group Texas Eagle Forum and a onetime chairwoman of the Texas Republican Party, AP reports.
Adams, whose group rallied behind Tea Party candidates who dominated Texas Republican primary races this year, claimed she was only promoting a proposal which had been endorsed by a man who underwent the therapy.
"He knows what he's talking about. He is one of those who has benefited," Adams said. "I think the majority of Texans feel that way too. It's not like this is mandatory. This is only a voluntary program."
Delegates have in fact tempered the party plank, removing a decades' old section from the party's plank which said: "We affirm that the practice of homosexuality tears at the fabric of society and contributes to the breakdown of the family unit. Homosexual behavior is contrary to the fundamental, unchanging truths that have been ordained by God."
According to the Houston Chronicle, this change was met with some resistance on Thursday, with at least one delegate demanding the committee return to the platform language about homosexuality tearing at the fabric of society.
The full convention of nearly 10,000 delegates from across Texas will take a final vote on the platform Saturday.
The Texas GOP is believed to be countering recent moves countering bans on conversion therapy targeting teens which have recently been introduced in New Jersey and California. In August, the Republican governor of New Jersey, Chris Christie, signed into a law a bill banning licensed therapists from attempting to turn gay teens straight.
Judges on a federal appeals court also upheld a similar ban in California last fall.
Apart from the issue of homosexual conversion, the Texas Republican Party platform draft also supports "total constitutional rights for the unborn child," backs "eliminating bureaucratic prohibitions on corporal discipline and home schooling in foster homes," and calls for "the United States House of Representatives to appoint a select committee and a special prosecutor in order to subpoena testimony to fully investigate all aspects of the Benghazi debacle."
You can share this story on social media: