Grandfather of American drone victim abandons lawsuit against govt
Published time: 5 Jun, 2014 03:45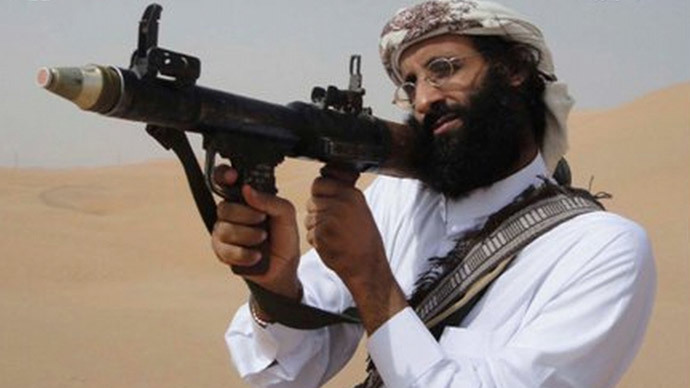 The grandfather of a teenage American citizen who was killed by a US drone strike has announced he will not appeal a US court's decision to dismiss a lawsuit against the government related to the boy's unintended death.
Nasser al-Awlaki's suit was one of a number that were filed against the US seeking more information on the classified drone program that is responsible for the deaths of an untold number of extremists and civilians throughout the Middle East. Unlike the others, though, Awlaki's suit sought additional damages that went past the increased transparency other complainants had asked for.
Awlaki is the father of Anwar al-Awlaki, the New Mexico-born cleric who became an influential Al-Qaeda leader. Both Anwar and his son (Nasser's grandson) Abdulrahman, 16, were killed in separate drone attacks in Yemen. Anwar Awlaki's death has been portrayed by some as a decisive victory against an influential terrorist and by others as the illegal murder of an American citizen living in Yemen.
US President Obama has never commented publicly on Abdulrahman's death but, according to "Dirty Wars" by journalist Jeremy Scahill, Obama was "surprised and upset and wanted an explanation" about what one White House source deemed "a mistake, a bad mistake."
A federal judge dismissed the lawsuit in April, although the eldest Awlaki announced on Wednesday that he would not file an appeal.
"I believe that my son and 16-year-old grandson were unlawfully killed by their government, and for a long time, I had faith that an American court would decide whether the killings of at least these American citizens violated the US Constitution's guarantee of due process," he said.
"My faith was shattered by the district court's opinion, which went out of its way to defer to the government's claims of killing authority, without allowing those claims to be challenged. I have now spent years asking American courts to deprive even its own citizens of life as part of a killing program that has devastated families like ours, and the courts have repeatedly accepted the government's broad claims of national security and told me they will not decide," he went on. "This isn't justice."
The American Civil Liberties Union and the Center for Constitutional Rights, which filed suit on Awlaki's behalf, told the Huffington Post they have "deep disappointment that in deferring to the government on national security grounds and refusing to hear their claims, the court's decision fell short of its constitutional duty."
The announcement comes after the Obama administration reinvigorated efforts to keep parts of the legal memo that explained the justification for Awlaki's death classified.
In January 2013, a Federal District Court judge decided that the US Justice Department could keep the document classified entirely. That ruling stood until April 2014, when a panel of the US Court of Appeals for the Second Circuit in New York ordered the government to publicize key parts of the document that provided the legal rationale for the drone strike that killed Anwar al-Awlaki.
It has been an issue of contention in recent weeks because David Barron, the former Justice Department attorney who wrote the memo, was confirmed by the US Senate by a narrow vote in May as a judge on a US appeals court. A number of senators said they would only vote to confirm Barron if the administration agreed not to appeal the April decision and release a redacted version of the document.
"I rise today to oppose the nomination of anyone who would argue that the president has the power to kill an American citizen not involved in combat and without a trial," Senator Rand Paul said at the time. "It is hard to argue for the trials for traitors and people who would wish to harm our fellow Americans. But a mature freedom defends the defenseless, allows trials for the guilty, and protects even speech of the most despicable nature."
In a court filing obtained by the New York Times last month, however, assistant US attorney Sarah Normand now argues that some of the information the administration pledged to reveal should actually remain secret.
"Some of the information appears to have been ordered disclosed based on inadvertence or mistake, or is subject is distinct exemption claims or other legal protections that have never been judicially considered," she wrote.