Dozens of additional deaths linked to GM cars with faulty switches
Published time: 3 Jun, 2014 16:33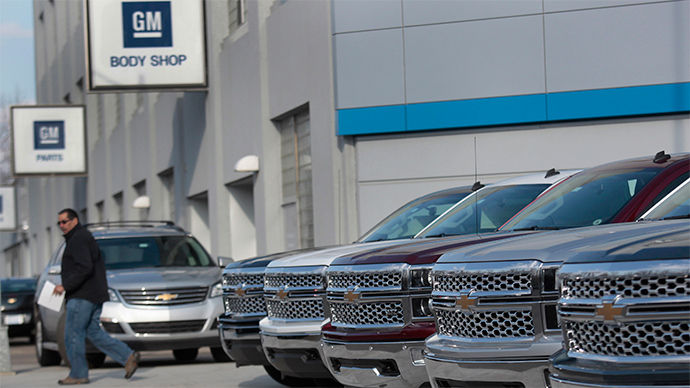 ​A new analysis suggests that more fatalities than originally reported may have resulted from faulty ignition switches used by General Motors in millions of cars sold during the last decade.
GM has gone on the record to acknowledge that 13 deaths have occurred as a result of the flawed switches, which the manufacturer knew for years were prone to abruptly cause affected automobiles to shut down, seizing the vehicles' power steering, power brakes and airbag deployment mechanism as a result.
This week, though, journalists at Reuters reported that their own independent investigation has led them to believe that deaths amounting to several times that figure — upwards of 74 fatalities, in fact — may have been caused by those faulty switches.
Reuters reported on Tuesday that an analysis of statistics held in the Fatality Analysis Reporting System (FARS) national database of crash information reveals that 74 car accident deaths between the years 2003 and 2010 occurred in GM cars with since-recalled ignition switches, and are typical of the incidents previously reported by the automaker.
According to Reuters, accidents in these GM cars were apparent at a much higher rate than cars sold by competitors during that same span.
"The final death toll associated with this safety defect is not known to NHTSA, but we believe it's likely that more than 13 lives were lost," admitted NHTSA Acting Administrator David Friedman.
"The news agency compared the incidence of this kind of deadly accident in the Chevrolet Cobalt and the Saturn Ion, the highest-profile cars in GM's recall of 2.6 million cars with defective switches, against the records of three popular small-car competitors: Ford Focus, Honda Civic and Toyota Corolla," Reuters reported. "The analysis found that the frequency of such accidents in the Ion was nearly six times that of the Corolla and twice that of the Focus."
According to details in the federal database, the Saturn Ion had 5.9 such fatal crashes per 100,000 cars sold, with the Cobalt being linked to with 4.1 out of the same sample. By comparison, the Focus, Civic and Corolla were respectively linked to only 2.9, 1.6 and 1.0 fatal accidents, on average, per 100,00 cars sold.
Reuters stopped short of saying that the GM accidents were specifically linked to the faulty switches, however, but were consistent with the fatal crashes previously acknowledged by the auto maker.
"It is not clear how many of the deadly accidents identified by Reuters involved defective ignition switches, because crash reports typically do not include that data," Ryan McNeill and Paul Lienert wrote for the wire in summarizing the analysis. "That leaves open the possibility that air bags may have failed to deploy in some of the GM crashes for reasons other than faulty switches."
Also this week, the Center for Auto Safety advocacy group said that GM has filed over 2,000 reports on injuries and deaths stemming from accidents involving cars containing the since-recalled switches, according to Bloomberg.
Our focus is on doing the right thing for customers — fixing the recalled vehicles as quickly as possible, addressing our civic and legal responsibilities and setting a new industry standard for safety," GM told Reuters in a statement.