Elon Musk: Competitor won Air Force contract because of corruption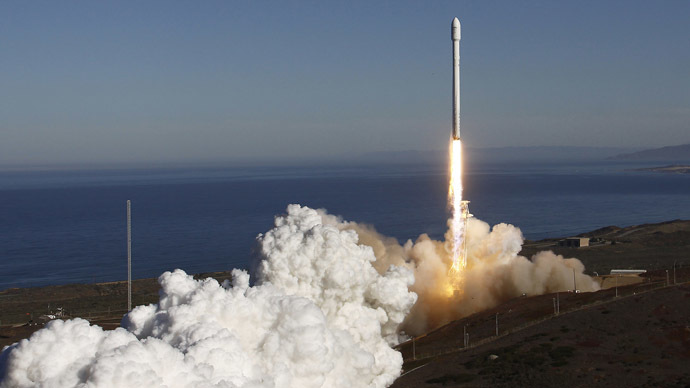 SpaceX CEO Elon Musk claims his competitor won a no-bid defense contract because of corruption. He alleges rivals hired a high-ranking Air Force official in exchange for the lucrative contract.
Musk says that Aerojet Rocketdyne, which supplies rocket engines to United Launch Alliance (ULA), hired former high-ranking Air Force acquisitions official Roger Correll in May. One of Correll's last official acts before leaving the government in January was to award ULA the contract for 36 future space rocket launches without any competition, the National Legal and Policy Center reported. ULA is a joint venture between government-contracting heavyweights Boeing and Lockheed.
Correll's title at Aerojet Rocketdyne is Vice President for Government Acquisition and Policy, which is "seemingly more than befitting of his role," the National Legal and Policy Center said.
Musk took to Twitter to share his thoughts on how the contract was awarded.
Air Force official awards $10B+ contract uncompeted & then takes lucrative job w funds recipient http://t.co/SHqFYWd3CR

— Elon Musk (@elonmusk) May 23, 2014
V likely AF official Correll was told by ULA/Rocketdyne that a rich VP job was his if he gave them a sole source contract

— Elon Musk (@elonmusk) May 23, 2014
Reason I believe this is likely is that Correll first tried to work at SpaceX, but we turned him down. Our competitor, it seems, did not.

— Elon Musk (@elonmusk) May 23, 2014
Aerojet Rocketdyne, which is a separate company from ULA, denied Musk's accusations. "Those allegations are completely without merit. We are confident of the process that we followed in hiring Mr. Correll," a company spokesperson told Quartz. "Mr. Correll received the necessary clearances and approvals from DOD, and his duties and actions on behalf of Aerojet Rocketdyne are consistent with those clearances and approvals."
Musk has a history of challenging the validity of this particular contract. He previously asked the US government to reconsider the deal because it's expected to involve space-related contracts with Russian rocket maker NPO Energomash: Aerojet Rocketdyne owns half of a company called RD Amross. The other half is owned by NPO Energomash, which actually builds the engines, the National Legal and Policy Center reported.
Musk said he thought other American companies should be considered in the midst of an international crisis that has caused tensions between Washington and Moscow to worsen in recent weeks due to the ongoing unrest in Ukraine.
At the beginning of May, United States Court of Federal Claims Judge Susan G. Branden issued an injunction to prevent ULA from buying Russian-made engines for its Atlas V rockets. "In the court's judgment,the public interest and national defense and security concerns that underlie Executive Order 13,661 warrant issuance of a preliminary injunction in this case," thus prohibiting both the US Air Force and ULA "from making any purchase from or payment of money to NPO Energomash," Branden wrote in her ruling.
But the Pentagon has admitted it cannot find a replacement for the Russian rocket engines anytime soon, a senior official revealed after the court decision.
The SpaceX billionaire also objected to the fact that the Air Force awarded the contract without soliciting bids from other companies, despite government plans plans to introduce more competition and other cost-saving measures, Quartz reported. "The long-term contract, which guarantees the purchase of 36 rocket cores from ULA to be used in national security launches, was granted to ULA on a sole-source basis without any competition from other launch providers," SpaceX said in an April statement.
"This is not SpaceX protesting and saying these launches should be awarded to us," Musk added. "We're just saying these launches should be competed. If we compete and lose, that's fine. But why would they not even compete it? That doesn't make sense."
Gwynne Shotwell, the president and chief operating officer of SpaceX, questioned whether the Air Force has an institutional bias towards ULA in a phone interview with the Washington Post.
"The Air Force is a group of a lot of different folks and a lot of different groups. I think there are lots of leaders in the Air Force that are keenly interested in getting competition. That said, the Air Force is an institution, and they tend to have institutional drag or momentum, and as an institution it's easier for them to stick with ULA," Shotwell said.
At the time the contract was awarded, SpaceX did not have the proper certifications for its Falcon 9 rocket to participate in the program, the Washington Post reported.
"At the time of the initial acquisition process in 2012, the contract award in June 2013, and even today, ULA is the only government certified launch provider that meets all of the unique . . . requirements that are critical to supporting our troops and keeping our country safe," ULA said in a statement.
In April, Sen. John McCain (R-Ariz.) sided with Musk in opposing the use of a no-bid contract for the Evolved Expendable Launch Vehicle program. He sent letters to Secretary of the Air Force Deborah Lee James and Department of Defense Inspector General Jon T. Rymer, expressing his concern about the "vital $70 billion national security space-launch program that, without competition, has been plagued by exponential cost growth and schedule delays," his office said in a press release. In the two letters, he asked for a full investigation into the program, including how it was awarded and the cost overruns.
Each SpaceX launch costs about $100 million, while ULA launches cost two to four times as much, according to Quartz.
You can share this story on social media: