Pentagon says it cannot replace imported Russian rocket engines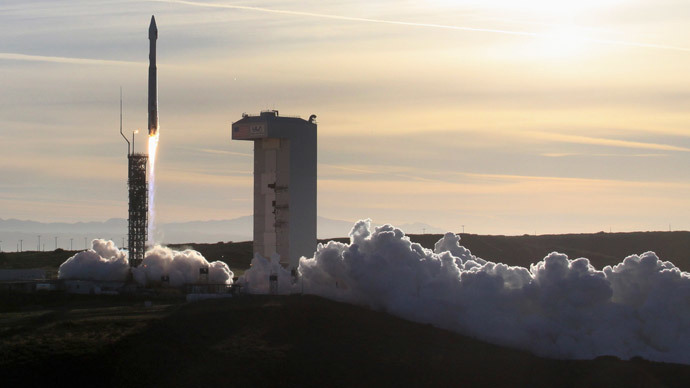 The Pentagon cannot find a replacement for the Russian rocket engines it buys anytime soon, a senior official has revealed. The import of the engines has for now been banned via a court order lobbied by SpaceX and based on sanctions against Russia.
Washington may soon find it problematic to continue launching its military satellites, as a long-time supply connection between Russian and US defense companies has been halted and is being reviewed – all because of sanctions against Moscow in connection with the Ukrainian crisis.
Earlier ordered by US Defense Secretary Chuck Hagel, the review of US Air Force dependence on the Russian-made RD-180 engine, used in American Atlas V rockets, has not yielded any solutions.
"We don't have a great solution. We haven't made any decisions yet," Frank Kendall, the US undersecretary of defense for acquisition, was quoted as saying by Bloomberg in a Thursday article. The defense official spoke to the outlet after testifying before a Senate committee on the matter on Wednesday.
United Launch Alliance LLC, a partnership of Lockheed Martin Corp. (LMT) and Boeing Co. (BA), has been purchasing RD-180 rocket engines from joint Russian-American enterprise RD-Amross LLC since 1997. The engines in question have been produced at a plant of NPO Energomash near Moscow, and over 40 of them were delivered between 1997-2007 alone.
The US has used RD-180 engines to power its Atlas III and Atlas V rockets, which mostly deliver commercial or military communications satellites, as well as reconnaissance and navigation satellites.
SpaceX fighting Russia on US space market?
So far, the replacement options outlined by the Air Force for Hagel have reportedly included building RD-180s in the US under an existing license from the Russian maker, or using different Delta-class rockets altogether. Each of the options has its drawbacks, such as the need to harness the time and know-how for setting up engine production in the US, or the limited production capability for another class of rockets, according to Kendall.
However, even as the Pentagon has yet to come up with a definite decision on the issue, the banning of the Russian engine import is being pushed through by other US players.
US billionaire Elon Musk's SpaceX corporation on Wednesday won a court order temporarily blocking the Air Force from buying the Russian rocket engines on the grounds of a "potential violation" of US-imposed sanctions. The corporation says that by purchasing the engines, the Air Force is funneling money to Russia's military industrial complex, which could be sponsoring some sanctioned Russian personas.
That was only part of the April 28 complaint filed by SpaceX, which has been desperately trying to break into the military launch market. Musk has particularly been aiming to end the Boeing/Lockheed-Martin monopoly on launching military satellites in the US.
Speaking at a congressional hearing in March, Musk alleged that such launches may be at risk due to the dependence on the Russian engine.
There has not, however, been any indication that Russia could stop the production of engines already agreed upon under the latest contract, nor did the US freeze their delivery. The Wednesday court decision did not cover existing contracts or payments either.
Despite Washington's recently ratcheted-up rhetoric on sanctions against Russia, Bloomberg learned that five more RD-180 engines are still due to be delivered this year. The further deliveries could come under question at least temporarily, as, according to Pentagon spokeswoman Maureen Schumann, the United Launch Alliance has already stockpiled a two-year supply of the engines.
You can share this story on social media: