AT&T hacker invoices Justice Dept. for time spent in federal prison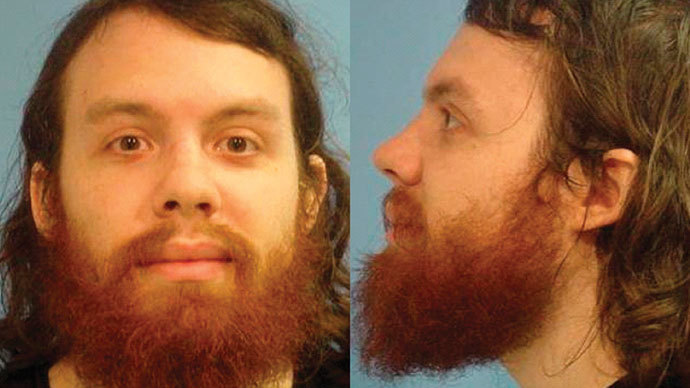 ​A computer hacker who was released early from prison last month due to a federal appeals court decision is demanding that the Justice Department pay him for what he calls acts of fraud and violence committed by the United States government.
On Tuesday, 28-year-old Andrew Auernheimer of Fayetteville, Arkansas published an open letter addressed to the members of the New Jersey Direct Court and US Department of Justice who oversaw his 2012 conviction for computer hacking and identity fraud vacated last month by the Third Circuit Court of Appeals.
"It is time, now that the fraud and violence committed against me has been exposed by the appeals process, to begin making amends to me for the harm her court has done," Auernheimer wrote.
This is my invoice to the feds. Just sent it their way, bcc'd a few hundred journalists. http://t.co/CsC3Xi9Vswpic.twitter.com/Er9bNRktiT

— Andrew Auernheimer (@rabite) May 20, 2014
The security expert and self-described troll, often referred to on the web by his internet handle "weev," says that the scathing 1,200-word letter circulated to members of the press and prosecutors alike this week is "an invoice for services rendered" that he hopes will get him compensation for not just the 13 months he spent in federal prison for supposed hacking and identity fraud charges before the Third Circuit's ruling, but for the two years he spent ahead of trial effectively confined to the jurisdiction of the New Jersey District Court.
Speaking to RT's Andrew Blake on Tuesday, Auernheimer wouldn't say what he thinks the odds are that Uncle Sam will cut him a check for $13.2 million, payable in Bitcoin, as charged in his invoice. What he wants for certain, however, is to make it known that he didn't walk away satisfied with only being validated by the court of appeals.
"I want history to record that I made an honest and public attempt to get restitution for the violence the government committed against me. Whatever I do next, I want people to know that I tried civil and peaceful resolution first," he told Blake.
Last month, the appellate panel ruled that prosecutors were wrong to try Auernheimer in New Jersey for deploying a computer code from Arkansas, and thusly vacated the 2012 conviction on grounds of venue.
"As we progress technologically," the court wrote, "we must remain mindful that cybercrimes do not happen in some metaphysical location that justifies disregarding constitutional limits on venue. People and computers still exist in identifiable places in the physical world."
In a footnote to that ruling, the court said the supposed crime itself — executing a script that provided Auernheimer and a codefendant with the email addresses of 114,000 Apple iPad users due to a security glitch on the servers of telecom AT&T — appeared to not constitute accessing a computer "without authorization, or in excess of authorization," as prosecutors alleged when they charged him violations of the federal Computer Fraud and Abuse Act.
But with a potential wrongful imprisonment lawsuit still in the works, however, and a re-indictment possible at any moment, Auernheimer is for now taking the matter into his own hands and asking for the DOJ to answer to a costly invoice that he'll accept only in Bitcoin — because the US dollar "is the preferred currency of criminal organizations such as the FBI, DOJ, ATF and Federal Reserve," he wrote, "and I do not assist criminal racketeering enterprises."
For the 13 months he spent at Allenwood Federal Correctional Complex and the span he spent before then awaiting trial, Auernheimer is asking the government to pay his current market-determined rate of 1 BTC an hour, amounting to 28,296 bitcoins, or $13,200,000 USD as of this writing.
"It has long been one of the fundamental pillars of our system of law that when one commits a crime against another, they are made to give restitution to their victims," Auernheimer wrote on Tuesday. "I have, over the course of three years, been made the victim of a criminal conspiracy by those in the federal government."
According to Auernheimer, the government engaged in "a conspiracy of sedition and treason, perpetrated with violence by a limited number of federal agents to deprive me of my constitutional rights to a fair trial and unlawfully put me in prison."
"This is not a hallucination on my part. These claims were in fact verified by the Third Circuit Court of Appeals when they vacated the false judgement against me imposed by the sham court of Judge Susan D. Wigenton," he added.
Auernheimer continued:
"On January 18th, 2011 I was kidnapped at gunpoint by the US Marshals from Fayetteville, Arkansas, the town where I was born, based off a criminal complaint based on complete falsehoods written by FBI Special Agent Christian Schorle. The complaint alleged I had broken into AT&T's servers (I hadn't, as confirmed by the appeals court which verified no evidence was presented that any of my accesses bypassed security restrictions) and that New Jersey was the jurisdiction because AT&T was headquartered there. In actuality, AT&T was headquartered at the time in Houston, Texas. This sort of blatant falsehood is verifiable by a simple Google search.
"Thus I was taken from Arkansas, the nicest place I ever lived, and brought to Newark, New Jersey, a place worse than any of the many third world countries I have visited. I was held under bail conditions where the government refused to allow me to work in my industry, told me where I could live (I was not allowed to return to my birthplace of Arkansas where I lived at no expense, and instead forced to pay rent in New Jersey) and was subject to the indignity and expense of regular mandatory travel to the Newark courthouse to urinate in front of a federal employee. I was told where I could travel, and where and how I could sleep. My time and life was completely monopolized by the federal government during this period, again based off false statements from a lying piece of shit in the federal government."
During his time in prison, Auernheimer added, he "had enough time to think about the current state of federal government." His determination: "The federal government has declared war on We the People."
"I am but the latest casualty of the unjust and seditious war being waged against honest Americans and defenders of the Constitution," he wrote. "At Waco the FBI directed the murder of 76 men, women, and children. At Ruby Ridge the FBI murdered both a 14-year-old boy and a woman cradling her infant child. All federal agents are, in fact, murderous thugs and seditious terrorists. Sedition is the charge for crimes which undermine the Constitution with violence. I can assure you that violence was used against me, and the Third Circuit Court of Appeals has already verified that the case against me undermined the Constitution."
Elsewhere in his letter, the hacker said he will use the requested restitution to build memorial groves to honor "the greatest patriots of our generation": Timothy McVeigh, Andrew Stack and Marvin Heemeyer — three Americans who infamously used acts of violence in an effort to make statements against the government.
When reached for comment following the release of Auernheimer's statement Tuesday morning, a spokesperson for New Jersey District Court said "We are not going to respond in detail to a statement that, among other things, praises Timothy McVeigh and other domestic terrorists."
"Andrew Auernheimer was convicted following a jury trial, and the charges against him were dismissed based on venue, not on their merits. Any suggestion to the contrary is a misunderstanding of the court's opinion," the spokesperson added.
When shown the comment, Auernheimer agreed. He was "convicted following a jury trial where the government repeatedly lied and the judge refused to let me respond to the lies," he claimed.
Even with the conviction vacated, though, the government may decide to retry Auernheimer again in the proper jurisdiction. The hacker says that he would not be surprised if he is re-indicted in the correct district, and the Law360 website reported last week that New Jersey US Attorney Paul Fishman said he may appeal the Third Circuit's ruling. If so, Auernheimer's case may be heard by the Supreme Court. Nevertheless, Auernheimer appears oddly optimistic about having yet another day in court.
"I would love to expose the government as liars and frauds further," he said Tuesday.
You can share this story on social media: