Greenwald's book tour draws ire from Anonymous hacktivists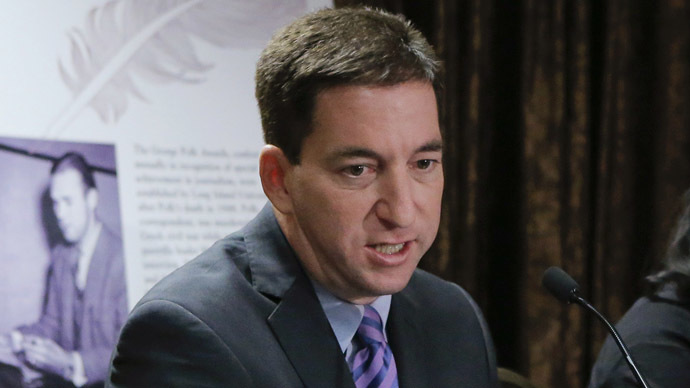 As Glenn Greenwald begins a book tour to commemorate the release of a story detailing his work with former national security contractor Edward Snowden and the secret documents he supplied, a new campaign has caught the author in its crosshairs.
A grassroots effort to raise awareness of a group of individuals guilty of disrupting the website of financial service PayPal in late 2010 as part of a digital protest waged by the hacktivist movement Anonymous is gaining traction in the midst of a mini book tour that started on Tuesday this week with Greenwald making an appearance at a New York City event to discuss his latest effort, No Place to Hide: Edward Snowden, the NSA and the US Surveillance State; a similar stop is scheduled for Wednesday evening in Washington, DC, followed by event at Harvard University and another abroad.
Greenwald, 47, made waves last year when he began publishing reports for Britain's The Guardian concerning the US National Security Agency's vast surveillance apparatus with the help of classified documents supplied to him by Snowden, a former NSA contractor. Soon after, however, he left the newspaper and began working on national security stories at The Intercept — a news site launched last year by First Look Media and backed by billionaire eBay founder Pierre Omidyar, whose company acquired PayPal in 2002.
That relationship has since attracted the ire of certain members of Anonymous and their supporters, who have voiced their personal disapproval of Greenwald joining forces with Omidyar so soon after 11 hacktivists entered guilty pleas in the case surrounding the 2010 attack waged against PayPal.com.
The US Justice Department pursued felony charges against 14 individuals alleged to have participated in a distributed denial-of-service attack against PayPal in late 2010 after the website stopped processing donations to the anti-secrecy group WikiLeaks due to the organization's publication of classified State Dept. diplomatic cables. That legal case lingered on for nearly three years until last December when 11 of the so-called "PayPal 14" pleaded guilty to lesser charges in exchange for a deferred sentence and promised to pay the website a combined sum of roughly $80,000 — a fraction of the $5.5 million that PayPal originally accused the DDoS protest of costing. Two others from the group of 14 entered separate but similar pleas, and a fourth defendant, Dennis Collins, is awaiting trial for a related case to be heard in the Eastern District of Virginia federal court.
Now as the PayPal 14 attempts to raise money to cover that court-ordered restitution, Greenwald is being condemned by Anonymous supporters for cutting a deal with Omidyar and, indirectly, PayPal.
"When PayPal, part of Pierre's eBay, blocked donations to WikiLeaks, the 14 and many others saw that the company wasn't just a means of transferring money. It was also a means of control," reads a widely circulated statement about the relationship that emerged on the text-sharing site Pastebin this week.
"The 14 along with countless others bravely launched DDOS attacks, the digital equivalent of sit-ins, against PayPal to protest the unjust blockade. They shut down PayPal's public website briefly without interfering with backend financial transactions or causing lasting harm, contrary to Department of 'Justice' claims in court. After having their lives disrupted for years, 11 of the PayPal14 still face federal charges. Greenwald faces applause," it continues.
Indeed, some of the individuals who entered guilty pleas last December in the Northern District of California federal court agree that the last few years have been anything but easy. Mercedes Haefer, one of the defendants, writes on a newly-launched website for the PayPal 14 that "the court case has been a long and demanding process," during which she at one point faced two felony counts, 15 years in prison and $250,000 in fines. As long as she stays out of trouble until next year's formal sentencing, she'll owe PayPal less than six grand.
The Pastebin post — read more than 5,000 times as of Wednesday afternoon just two days after being published — goes on to call for demonstrations outside of Greenwald's scheduled book events that began this week.
"The goal is to raise that $80,000. If we do that, we win this battle. For now, everything else is secondary," it reads. "Supporting the PayPal14 doesn't just mean one tweet and you're done. It means constant effort. Specifically, attend Greenwald's book tour stops listed below. If they're sold out--and most are NOT--still go and make noise outside (or get inside anyway!)."
On Tuesday evening, however, a protest planned for outside of Greenwald's New York City event was reportedly absent of any such activity.
"At 7 p.m., when the event got under way, there was no sign of anyone but Greenwald devotees and press in the audience," Jacob Siegel wrote for The Daily Beast early Wednesday.
Nevertheless, those close to the campaign who hope to raise awareness of the PayPal 14's legal plight in the midst of Greenwald's book tour say support for the digital activists has certainly increased in recent days. The campaign has also garnered the attention of the @YourAnonNews Twitter account, with which over 1.2 million followers has become instrumental in spreading the word about hacktivism-related matters.
If you are in NY show up tonight in solidarity with the #PayPal14http://t.co/cMkmsmHs1u

— Anonymous (@YourAnonNews) May 13, 2014
"We're working hard and have actually raised a little more than $1200 since the campaign started Monday morning," freelance journalist Douglas Lucas, who told the Daily Beast he helped author the Pastebin post, explained to RT's Andrew Blake on Wednesday. "That's a lot for 48 hours and a small, decentralized team of activists who don't have billionaire backers."
And even with tens-of-thousands of dollars more to go, Lucas added that he's "cautiously optimistic" about attempts to bring the PayPal 14's case to the spotlight.
"We need to support real radicals, whether they take direct action like the PayPal14 or are non-celebrities, like those working with Project PM or Telecomix, researching and reporting on leaks without billionaire backers," Lucas added in reference to other hacktivism groups. "That is the way to fundamentally change things. Those hitching their wagons to celebrity journalists and 'Thought Leaders' are paywalling the future."
"We're not stopping people from learning about the NSA," Lucas added. "Greenwald's on the Today Show and The Colbert Report, has a book tour and a movie deal. But the radicals need support."

Lucas' remarks came only moments after the Hollywood Reporter confirmed that Sony Picture Entertainment has optioned the film rights to No Place to Hide.
"Growing up, I was heavily influenced by political films, and am excited about the opportunity to be part of a political film that will resonate with today's moviegoers," Greenwald told the Reporter.
You can share this story on social media: