FBI investigates Bundy ranch supporters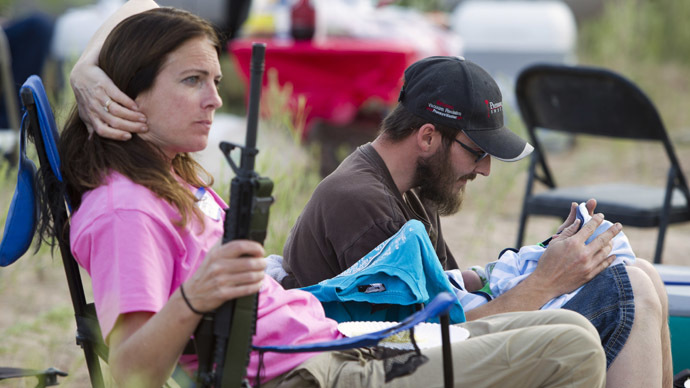 While Cliven Bundy supporters praised the armed individuals who came to the defense of the Nevada rancher in his land rights dispute with the federal government, the FBI is now investigating them for possible criminal offenses.
The armed standoff between the Bureau of Land Management and Bundy – who has refused to pay $1 million in animal grazing fees the government claims he's owned since the 1990s – has now been over for weeks, but recently it's been those supporters and armed state militia members who've come under the spotlight.
According to local Las Vegas news outlet KLAS, multiple sources have confirmed the FBI has opened a criminal investigation into the event. When Bundy declined to pay up – he claims he does not owe the government anything since his ancestors had used the land for more than a century – federal agents began seizing his cattle. As sympathetic supporters descended upon the ranch – most who believed the government was overreaching – the BLM backed off and released the cattle back into Bundy's custody.
Now, however, there are allegations that Bundy supporters went too far, with many reportedly pointing their weapons at Metro officers who got between them and BLM agents. It is illegal to point a loaded weapon at federal officials, and some Metro officials have told the FBI that Bundy's supporters launched death threats against them.
"The federal authorities are conducting an investigation and I am pretty confident it is going to go into the future," Metro Assistant Sheriff Joe Lombardo said to KLAS.
"(Would there be consequences for somebody there on video tape, on a news camera pointing a gun at a Metro officer, pointing a gun at a federal ranger?) Yes, there is definitely going to be consequences, definitely. That is unacceptable behavior. If we let it go, it would continue into the future," he added.
Lombardo, along with Sheriff Doug Gillespie and numerous other Metro officers, have already been interviewed by the FBI. Metro Police Sgt. Tom Jenkins claimed that some Bundy supporters even set up armed positions near women and children.
"It is not a rumor … You saw kids and women and horses in the backdrop and then men with guns, laying on the ground, in the back of pickup trucks," stated officer. "We're going, 'wow, this would never happen in Las Vegas,' But it was there. That is not a rumor. It is reality and I saw it with my own eyes," Metro Police Sgt. Tom Jenkins said.
According to KLAS, Bundy supporters have denied the accusations through email and phone calls. No individuals were cited, but they said the only people pointing guns at others were BLM agents.
This development is just the latest regarding Bundy supporters, who have come under the spotlight recently. As RT reported earlier this week, US Rep.Steven Horsford (D-Nev.) has called on the state's governor to intervene and remove what he called "armed separatists."
Just a few days before that, supporters also lashed out at Senate Majority Leader Harry Reid (D-Nev.) for calling Bundy a "hateful racist" who "mooches" off public land. They criticized Reid for provoking what they termed "a civil war."
You can share this story on social media: