Nevada lawmaker demands immediate action against 'armed separatists' at Bundy ranch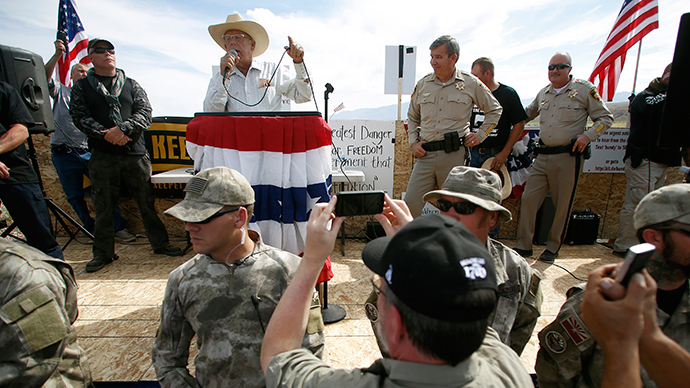 The United States congressman who represents most of Clark County, Nevada is calling on the state's governor to intervene in the situation at Cliven Bundy's cattle ranch and "get rid of these armed separatists" who have stood guard there for weeks.
Although a land dispute between the 67-year-old cattle rancher and US Bureau of Land Management is relatively calm after escalating to the point of becoming an armed-standoff involving militiamen and the federal government in mid-April, at least one lawmaker is still upset about the situation in Bunkerville, NV.
The standoff between Bundy's supporters and the BLM has indeed diminished in intensity, but Rep. Steven Horsford (D-District Four) told an audience at the Clark County Democratic Convention over the weekend that he thinks matters aren't entirely resolved.
BLM officers have largely retreated and Bundy — who has refused to pay the federal government grazing fees for roughly 20 years — has recovered many of his seized cattle. Nevertheless, supporters of the rancher remain outside his property in large numbers equipped with heavy firearms in the event that another standoff emerges and they have to be the last line of defense for the Bundy family in case of further federal encroachment.
Recounting tales from constituents that painted Bundy as "nothing but a welfare rancher living off the taxpayer subsidy" with "a sense of entitlement," Rep. Horsford told the convention goers that Nevada Governor Brian Sandoval and his administration need to step in as soon as possible, KSNV reported over the weekend.
After telling the crowd about his recent conversations concerning Bundy, Horsford said Saturday: "I am calling on (Gov.) Brian Sandoval, Senator Dean Heller, the sheriff (Doug Gillespie) and any other elected official in Nevada to do their part to get rid of these armed separatists."
On Sunday, the Associated Press reported that a spokesperson for Sandoval referred the AP to an interview filmed days earlier in which the governor said Nevada residents have a right to feel safe in their homes.
According to the AP, Sandoval said he heard of no plans from the sheriff to step in and boot out Bundy supporters from near the ranch.
"[E]ven if he had said that," Sandoval added, "I wouldn't share that with you, because certainly that's a conversation between the two of us."
"I just know that he is monitoring the situation and he's very aware of what's going on out there," he said of the sheriff, according to JRN-TV.
The BLM aborted their attempt to seize Bundy's cattle in mid-April after the standoff between the rancher's family and federal agents attracted the attention of the media and supporters, including militiamen, who vowed to defend Bundy's right to protect the property he refuses to acknowledge as the federal government's.
According to the BLM, Bundy has not paid federal grazing fees for land used by his cattle in 20 years, amounting to as much as $1 million in unpaid taxes.
You can share this story on social media: