Discovery of 'alien' DNA hailed by scientists, raises ethical concerns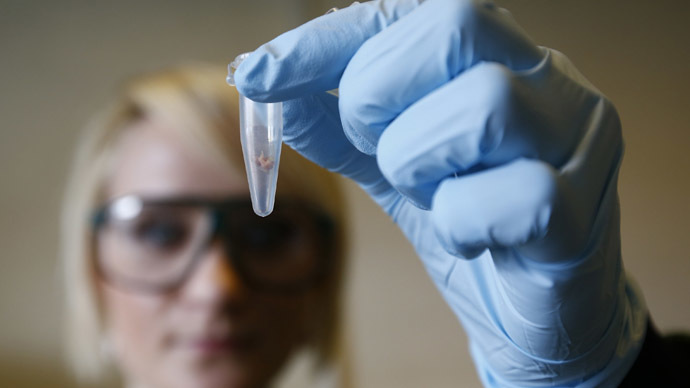 American scientists have for the first time ever made it possible for an organism to survive with artificial DNA, making it more likely new medicines can be developed, while raising ethical concerns among some advocates.
For researchers at the Scripps Research Institute in La Jolla, California the breakthrough, published Wednesday in the Nature science journal, was 15 years in the making.
The announcement is so remarkable because, for billions of years, all life has been made up of DNA subunits categorized by four letters: A, T, C and G. Scientists have now added two new DNA building blocks to E. coli bugs, which then reproduced as normal with the two extra letters in their genetic code.
The research could eventually lead to the production of completely new proteins that could be used either for medicinal purposes or industrial products. It also lends credibility to the theory that life in outer space could exist entirely without the DNA found on Earth.
"What we have now is a living cell that literally stores increased genetic information," said Floyd Romesberg, the Scripps chemical biologist who led the study. "This shows that other solutions to storing information are possible and of course, takes us closer to an expanded-DNA biology that will have many exciting applications – from new medicines to new kinds of nanotechnology."
Romesberg said that because the new building blocks, dubbed X and Y, are infused with simple bacteria they would not constitute a danger if they somehow left the laboratory and were spread among the public. He added that his company, Synthorx, is exploring what possibilities could be in the future for X and Y, especially when they are combined with the thousands of amino acids to develop new vaccines.
"This is just a beautiful piece of work," Martin Fussenegger, a synthetic biologist at ETH Zurich, told the Guardian. "DNA replication is really the cream of the crop of evolution which operates the same way in all living systems. Seeing that this machinery works with synthetic base pairs is just fascinating."
The optimism was not shared by all. This research could eventually inspire critics to call for increased restrictions on synthetic biology, a field primarily devoted to the design and construction of biological devices for useful purposes.
"The arrival of this unprecedented 'alien' life form could in time have far-reaching ethical, legal, and regulatory implications," Jim Thomas of the ETC Group, a Canadian advocacy organization, told the New York Times. "While synthetic biologists invent new ways to monkey with the fundamentals of life, governments haven't even been able to cobble together the basics of oversight, assessment or regulation for this surging field."
Opposition has increased as synthetic biology has made progress. The ETC Group, an international organization devoted to "the conservation and sustainable advancement of cultural and ecological diversity and human rights," has called for a global moratorium on scientific development until the ethical ramifications of synthetic biology can be fully examined.
Romesberg, perhaps not surprisingly, implied this week that such self-imposed restrictions when the field's potential is so exciting.
"If you read a book that was written with four letters, you're not going to be able to tell many interesting stories," he said. "If you're given more letters, you can invent new words, you can find new ways to use those words and you can probably tell more interesting stories."
You can share this story on social media: