'Living drug' beats leukemia in nearly 9 out of 10 cases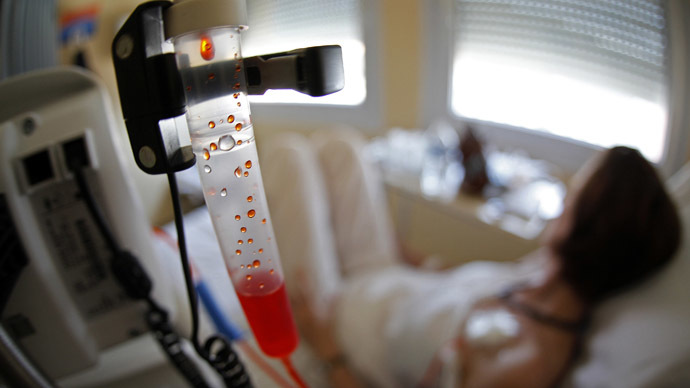 A new technique of treating leukemia using a patient's own immune system which is being called a 'living drug' has worked in 88 percent of adults a team of researchers in the US has found.
Scientists in New York published a report in Science Magazine in December 2013, hailing the treatment as a breakthrough in the field of cancer immunotherapy, AFP reports.
The latest trial, which was published in the journal Science Translational Medicine, involved 16 people with adult B acute Lymphoblastic leukemia (ALL).
In the trials 14 of the 16 patients achieved complete remission after their T cells - which play a crucial role in the body's immune system – were genetically engineered so they could focus on beating back the cancer.
The longest remission among the 14 patients is so far about two years according to the lead author of the report, Renier Brentjens, director of cellular therapeutics at Memorial Sloan Kettering Cancer Center in New York.
The process involves removing some of a patient's T-cells and altering them with a gene to make them recognize a protein on the cancer cells called CD19, so that they can attack them but not other cells. Without this genetic alteration T-cells will attack other harmful invaders in the body, but will allow cancer cells to grow.
"Basically, what we do is re-educate the T-cell in the laboratory with gene therapy to recognize and now kill tumor cells, it seems to really work in patients with this particular type of cancer," said Brentjens.
The treatment, known as tumor-targeted chimeric antigen receptor-modified T-cells, has been in development for 15 years. Without it only 30 percent of relapsed patients would be expected to respond to salvage therapy.
All the patients in the trial – whose average age was 50 – were on the brink of death when they started it and had already relapsed, or discovered that traditional chemotherapy techniques were no longer working.
1,400 people die of ALL leukemia every year in the US, and while it is among the most treatable cancers, patients often become resistant to chemotherapy and then relapse.
Overall in the US, Brentjens estimates that between 60 and 80 people have started the experimental trials, which are also being carried out in Europe.
In December last year, experts from hospitals across the US, which are carrying out the trials, presented their findings at the annual meeting of the American Society of Hematology (ASH).
The University of Pennsylvania is also studying the technique in adults with another type of cancer known as chronic lymphocytic leukemia (CLL), while the Children's Hospital of Philadelphia is enrolling pediatric patients in T-cell therapy trials.
The other US hospitals carrying out the trials have shown similar remission rates.
"This is a real phenomenon, demonstrating that this isn't a fluke. This could be a paradigm shift in the way we approach cancer therapy," said Brentjens.
Kanti Rai, chief of the CLL Research and Treatment Program at North Shore-LIJ Health System in New York, who was not involved in the research, hailed the study as "a major service to all of us."
"In the present report, we are told that equally dramatic and excellent results were obtained when a more frightening and fatal disease, such as adult ALL was the enemy," he said.
Researchers are still trying to find out why the treatment doesn't work in all patients, and to identify cancer-specific receptor cells so the technique can be used to fight other kinds of tumors.
But the therapy is expensive at $100,000 per patient, although experts believe the price will come down when pharmaceutical companies get involved and the treatment becomes more widespread.
You can share this story on social media: