Cancer patients turned away as sequester digs into Medicare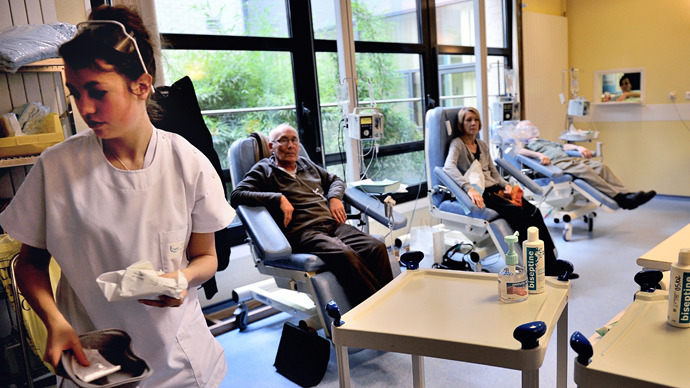 Budget cuts that took effect on April 1 due to the sequester are already taking their toll on Medicare, as cancer clinics turn away thousands of patients due to fears that treating them could jeopardize the bottom line.
Oncologists across the country are finding it impossible to administer chemotherapy drugs while keeping their clinics afloat, let alone turning a profit, the Washington Post reports.
"The drugs we're going to lose money on we're not going to administer right now," said Jeff Vacirca, chief executive of North Shore Hematology Oncology Associates in New York, as quoted by the Post. "If we treated the patients receiving the most expensive drugs, we'd be out of business in six months to a year."

In tandem with the new cuts, two major National Cancer Organizations issued a statement on what they call the devastating impact of sequestration on cancer patient treatment.
"Never before have I been forced to consider financial concerns when deciding which patients to treat," commented Community Oncology Alliance (COA) president Dr. Mark Thompson. "Oncologists should not be put in the untenable position of continuing to treat patients at a loss -- which will result in clinic closings -- or being unable to treat Medicare seniors fighting cancer in order to keep the clinic doors open."
Since cancer drugs are administered by a physician they are paid for by Medicare Part B, which pertains to doctor visits - and is impacted by the sequester.
According to the joint statement released by the COA, the American Society of Clinical Oncology (ASCO) and several other groups, the government does have the authority to modify the implementation of sequestration cuts and exclude Part B drugs, thus sparing chemotherapy.
If no action is taken, one survey indicates that up to 72 per cent of cancer clinics will likely have to deny Medicare cancer patients, or send them to hospitals that, according to the Washington Post, may not have the capacity to treat them.
Some hospitals, such as the Eastern Connecticut Health Network, have attempted to prepare for additional patients ahead of the looming cuts. Regardless, the 66 per cent of Medicare cancer patients that typically receive care at an oncology clinic will still have to come up with the money to cover bigger out-of-pocket costs.
Medicare patients may, at least, have an easier time at finding affordable cancer treatment at non-profit hospitals, as a federal program requires double-digit discounts from pharmaceuticals for those treating low-income and uninsured patients.
What frustrates oncology professionals the most is that these drastic measures could have been avoided.
"Most frustrating is that this did not have to happen. There are several ways that the Administration and Congress can act to avoid the most devastating of sequestration impacts," explained Ted Okon, COA's executive director. "However the cuts are addressed, it must be done immediately. In the absence of government action to stop sequestration cuts, practices will have no choice but to adopt emergency measures to deal with the sequester cuts to cancer drugs."
In addition to the impact faced by Medicare, the sequester cuts may deal another blow to the cancer patient community, as cuts affecting the National Institutes of Health will likely hamper genomic study and the development of new cancer drugs.

You can share this story on social media: