Deadly Oklahoma wildfire destroys homes, causes mass evacuation (VIDEO)
Published time: 5 May, 2014 15:29
Edited time: 5 May, 2014 15:30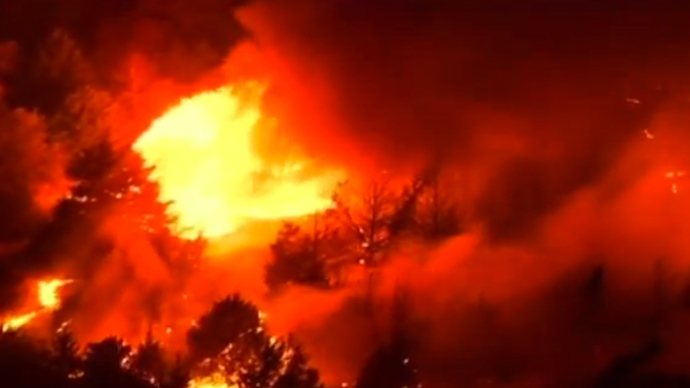 What initially began as a controlled burn in central Oklahoma quickly erupted into a massive wildfire with the help of strong winds and dry temperatures, killing one person and destroying at least six homes.
According to local news outlet KFOR, the wildfire has burned through approximately 3,500 acres of land near Guthrie, Oklahoma. Firefighting crews have managed to contain about 75 percent of the blaze – which started growing out of control Sunday afternoon – but local officials said that at least 150 homes are still at risk.
As of Monday morning, roughly 1,000 people had been evacuated from their homes due to the fire. Guthrie Fire Department Chief Eric Harlow told the Associated Press that one 56-year-old man who refused to evacuate was later found dead in his mobile home. Currently, he is the only casualty being reported.
Meanwhile, at least six homes have been destroyed, but Harlow stated that number will likely go up after new damage assessments are made. According to CNN, about 20 homes have been taken down by the flames.
While the majority of the fire has been contained, USA Today is reporting that wind is still enough of a problem that air support from the Oklahoma National Guard will likely be called in.
"With the wind conditions expected to pick up throughout the morning and afternoon, we still have some concerns," Harlow said.
Although burn bans have been established in some parts of Oklahoma – which is currently suffering drought-like conditions in much of the state – KFOR reported there is no such ban in Logan County, where the fire was started. Fire officials still don't know, however, who originally started the controlled burn or why.
Either way, with forecasters projecting low humidity and a high of 100 degrees Fahrenheit to accompany winds, firefighters may still have a daunting task ahead of them. Several fires were reported throughout Oklahoma over the weekend, and dry conditions statewide – the Oklahoma Climatological Survey says the last six months have been the state's second driest – have created a landscape that can quickly burst into flames.
In Guthrie, some residents managed to pack up essentials such as clothing and mementos before evacuating. Others, however, only had enough time to round up their loved ones.
"I was just grabbing the kids and the dogs," local resident Jeremy Barnett said to NewsOK.
"We didn't have time to grab anything," Cardelia Hayes, another resident, added. "I wish I could know if my house was still there."